Wednesday, May 1, 2013
elk bourguignon
This post seems very fitting today. Happy May everyone! Chances are many of you who are reading this today had the pleasure of waking up to a winter-y wonderland (yes, I said May). Wasn't it just last weekend that I was riding my beautiful new mountain bike in 70 degree sunshine? (Yes, it was.) Oh springtime. What would so many upper midwesterners have to talk about if it weren't for your seemingly bipolar ways?
It must indeed be springtime, though. The first bright red nubs of rhubarb have begun to poke their little heads through the garden soil, loving this heavy, late season moisture. Rhubarb is like kale in that way. They both thrive in less than perfect conditions, which is a huge reason why I love both. They're hard to kill.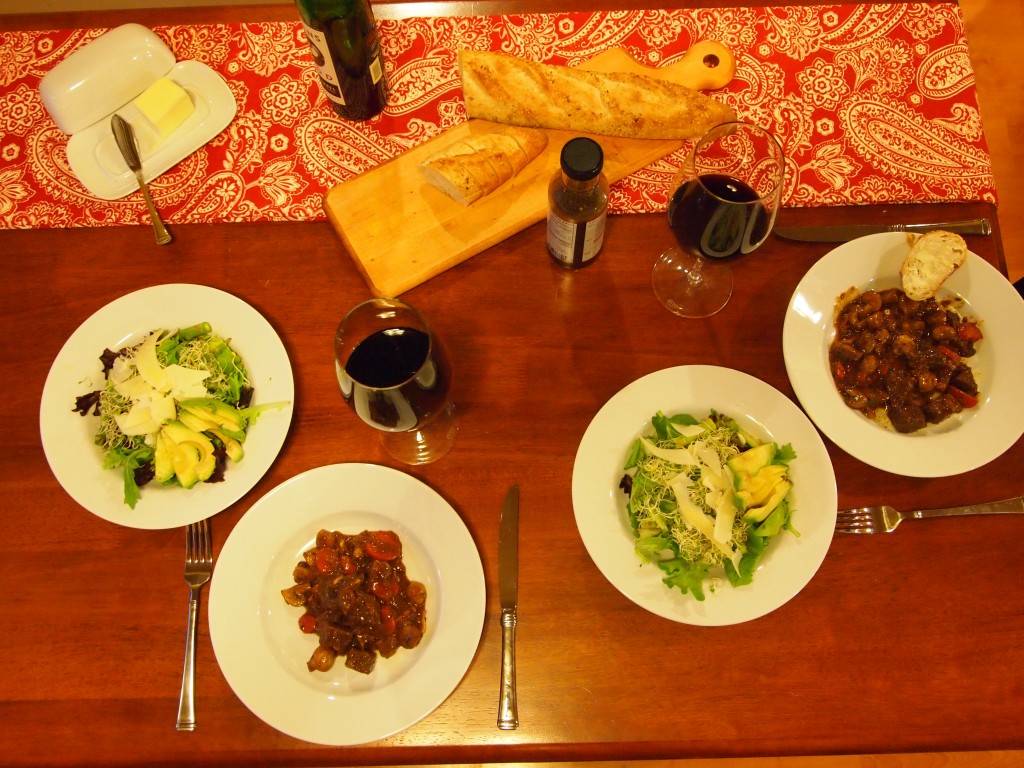 Anyway, the bourguignon! This isn't exactly an it's-warm-out-so-lets-turn-on-the-oven-all-day-to-heat-up-the-house kind of meal. But given this recent cold, it's perfect. Plus I couldn't have thought of a more perfect and classic meal to make for my new dutch oven's maiden voyage. (Thanks Mom and Dad. What a great birthday gift!) This is the first time I have made "boeuf" bourguignon and I figured it had to be ultra classic. So I turned to the one and only (while my inner 1950's housewife grew giddy): Ms. Julia Child.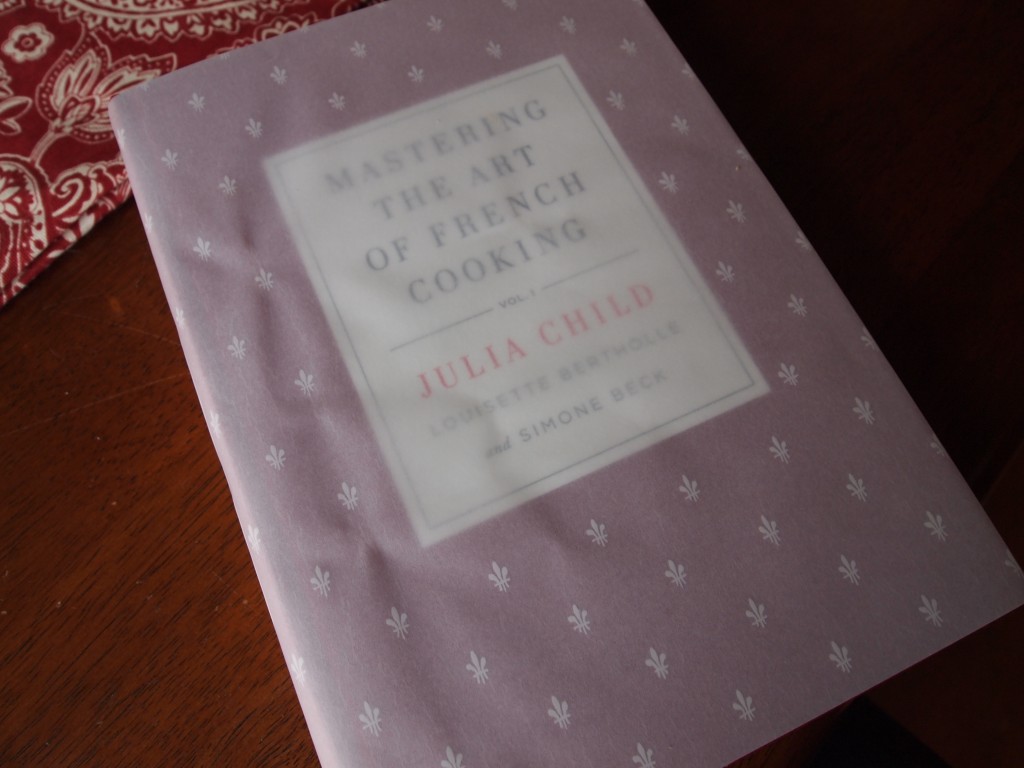 BOEUF BOURGUIGNON (slightly adapted from Mastering the Art of French Cooking by Julia Child, Louisette Bertholle, and Simone Beck)
6 oz. bacon
1 Tbsp. olive oil or cooking oil
3 lbs. lean stewing beef, cut into 2 inch cubes (I used elk sirloin)
2 sliced carrots
1 chopped onion
1 tsp. salt
1/4 tsp. pepper
2 Tbsp. all-purpose flour
3 cups of a full-bodied, young red wine (I used a pinot noir, which doesn't really fit this description but was on sale)
2-3 cups beef stock
1 Tbsp. tomato paste
2 cloves mashed garlic
1 tsp. thyme
a crumbled bay leaf
24 pearl onions, brown-braised in stock
1 lb. quartered fresh mushrooms sautéed in butter
parsley sprigs to garnish
Preheat oven to 450 degrees. Sauté the bacon in the oil over medium heat in a large dutch oven for a few minutes until browned slightly. Remove to a side dish with a slotted spoon. Reheat fat until almost smoking before adding the beef (elk). Dry the meat in paper towels before sautéeing it, a few pieces at a time, until brown on all sides. Add it to the bacon. In the same fat, sauté the carrot and onion (I had to pour out the "fat" at this point and use fresh oil for the veggies because our elk is pretty bloody and releases a lot of that moisture while cooking). Pour out the sauté fat.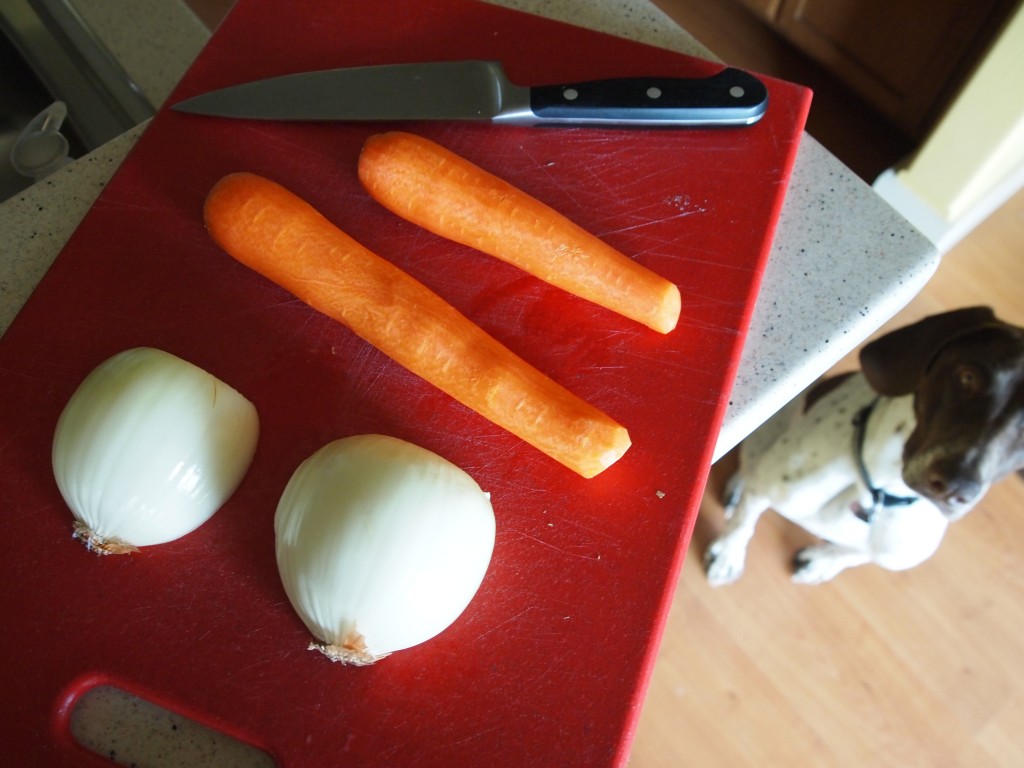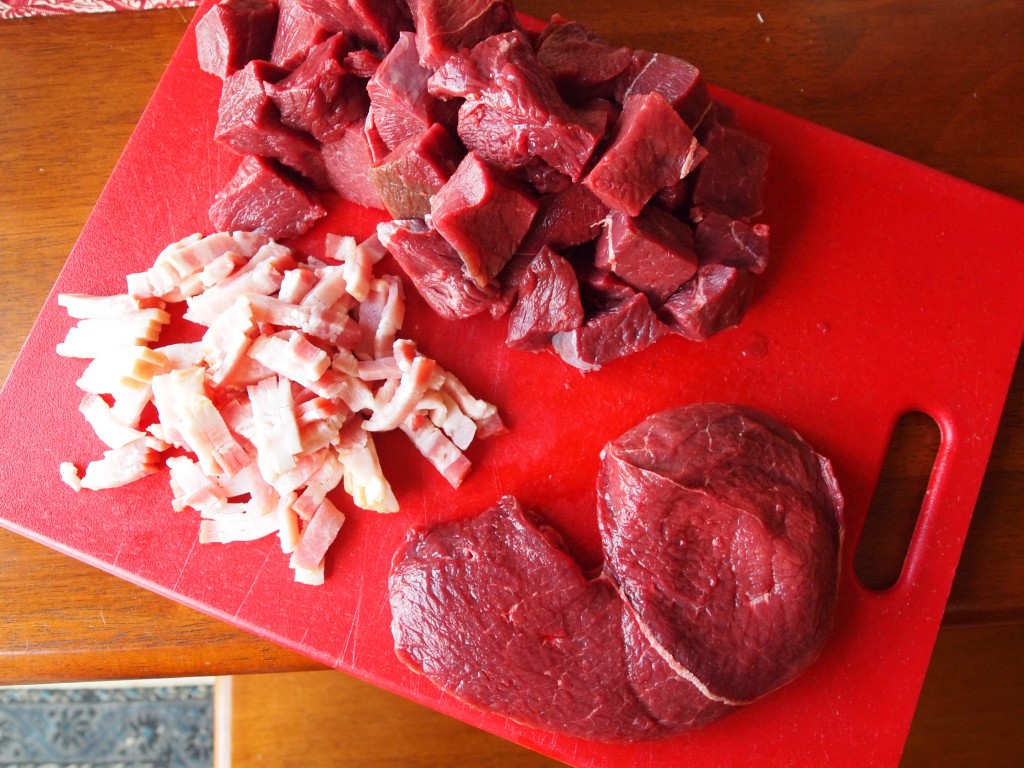 Return beef (elk) and bacon to dutch oven and toss with salt and pepper. Sprinkle on flour and toss to coat. Set dutch oven, uncovered, in middle rack in oven for 4 minutes. Toss meat and return to oven for another 4 minutes (to create a crust on the meat). Remove and turn oven down to 325 degrees.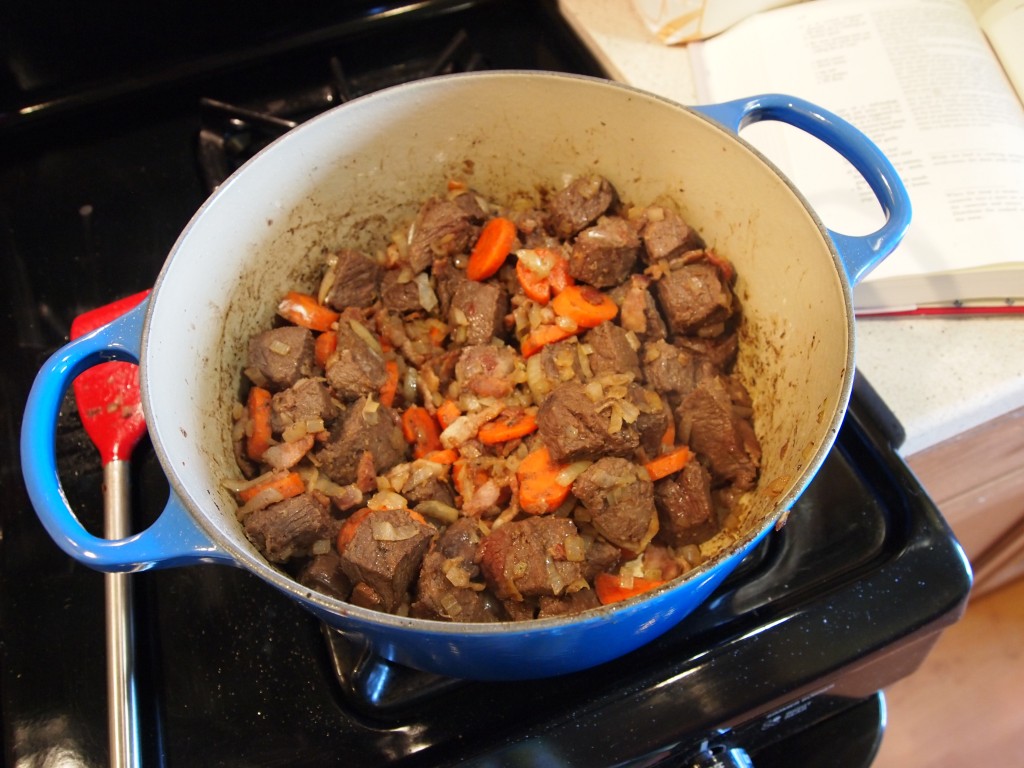 Stir in wine and enough stock to just cover meat. Add tomato paste, garlic and herbs. Bring to a simmer on the stove. Cover the dutch oven and set in oven for 2 1/2 to 3 hours. Regulate heat so liquid simmers very slowly. The meat is done when a fork pierces it easily. Meanwhile,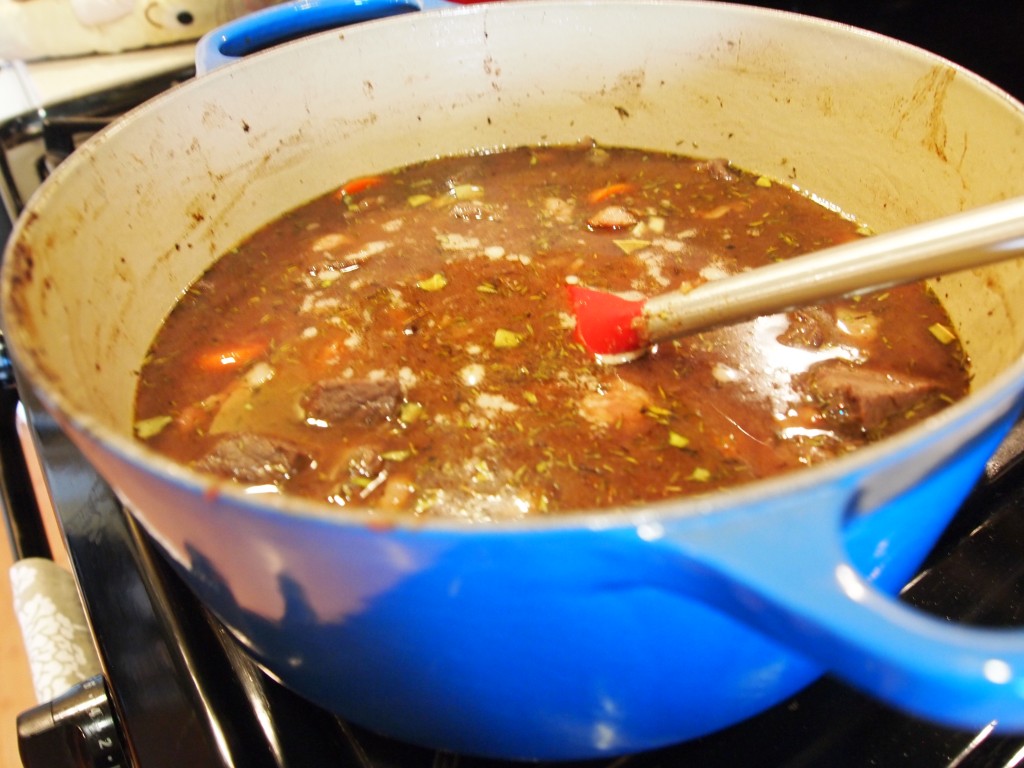 For the brown-braised onions:
24 pearl onions
1 1/2 Tbsp. butter
1 1/2 Tbsp. oil
1/2 cup beef stock
salt and pepper to taste
an herb bouquet: 4 parsley sprigs, 1/2 a bay leaf, and 1/4 tsp. thyme, tied in cheesecloth
When butter and oil are bubbling in a cast iron skillet, add onions and sauté over medium heat for about 10 minutes, rolling them around so they brown evenly. Careful not to break their skins. Pour in stock and add herb bouquet, salt and pepper and place in oven (along with the stew) for 40-50 minutes, until liquid has evaporated. Set aside until needed.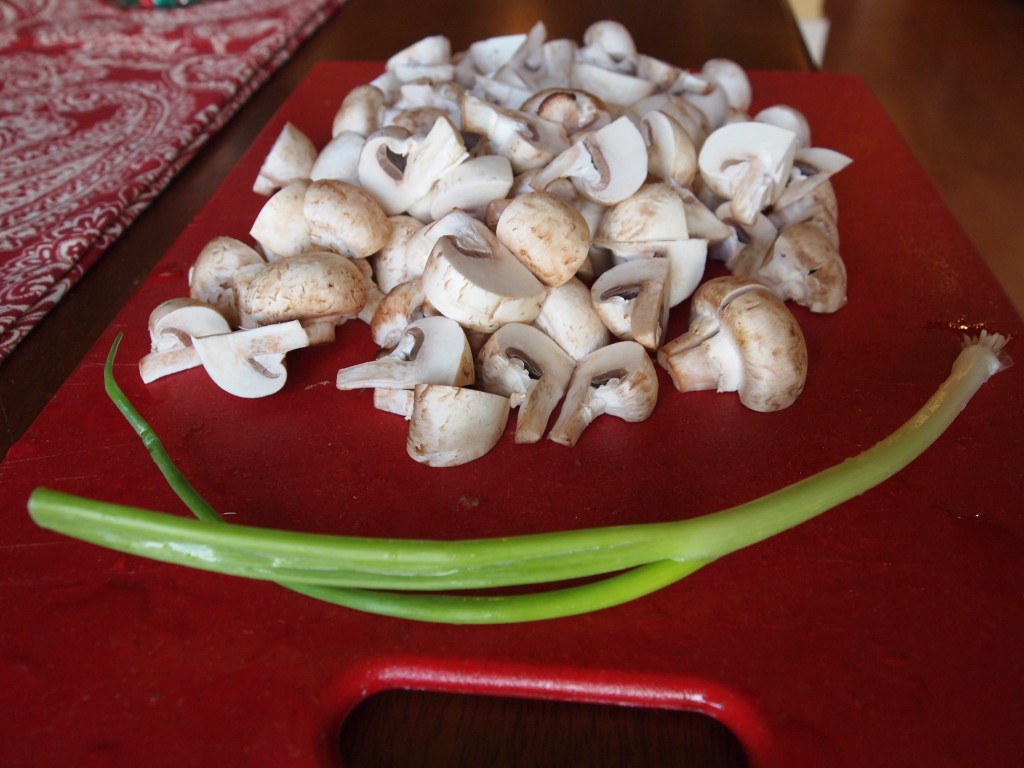 For the sautéed mushrooms:
2 Tbsp. butter
1 Tbsp. oil
1 lb. fresh mushrooms, washed, dried, and quartered
1-2 Tbsp. minced shallots or green onions (optional)
Place skillet on high heat with butter and oil. Once foam from the butter has begun to subside, indicating the fat is hot enough, add the mushrooms. Sauté, tossing pan for 4-5 minutes. Add shallots or green onions and sauté for 2 more minutes. As soon as the mushrooms start to brown, remove from heat. Set aside until needed.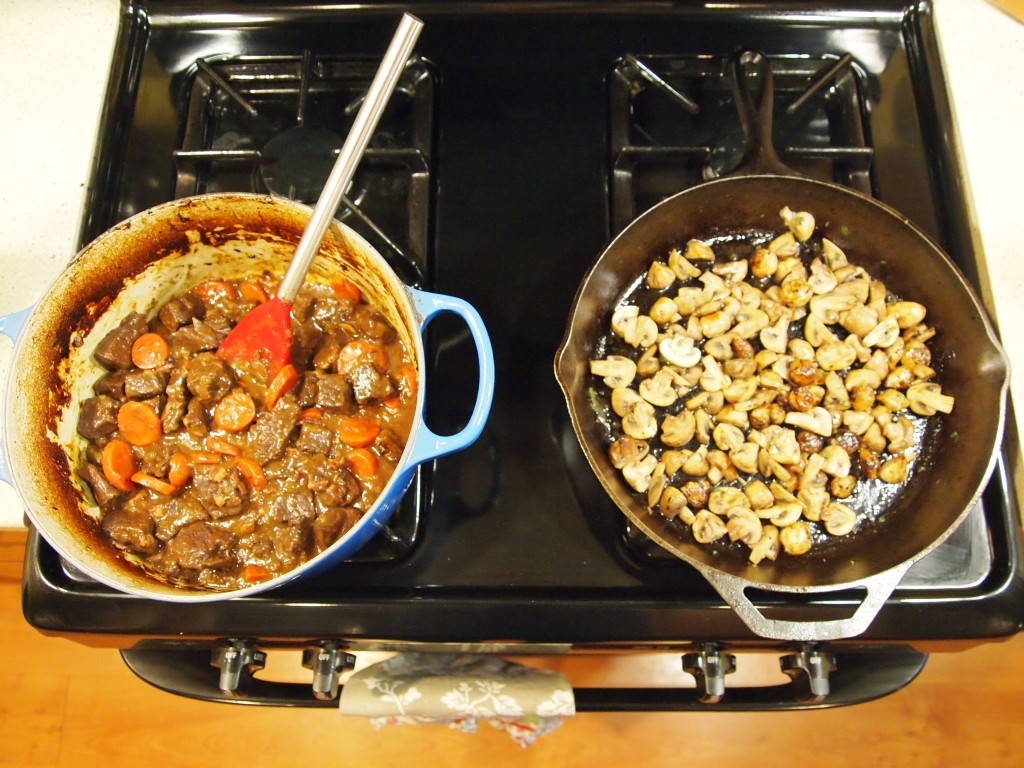 At this point, Julia Child says to strain out sauce from the stew, reduce it slightly on the stove and skim excess fat from the top. Elk is such a lean meat to begin with so there was no excess fat and the sauce was already a nice thick consistency. I didn't find this necessary and skipped this step. Instead I just added the brown-braised onions and sautéed mushrooms to the stew and mixed everything together. Serve in your lovely dutch oven and you have a perfect winter-y spring day meal.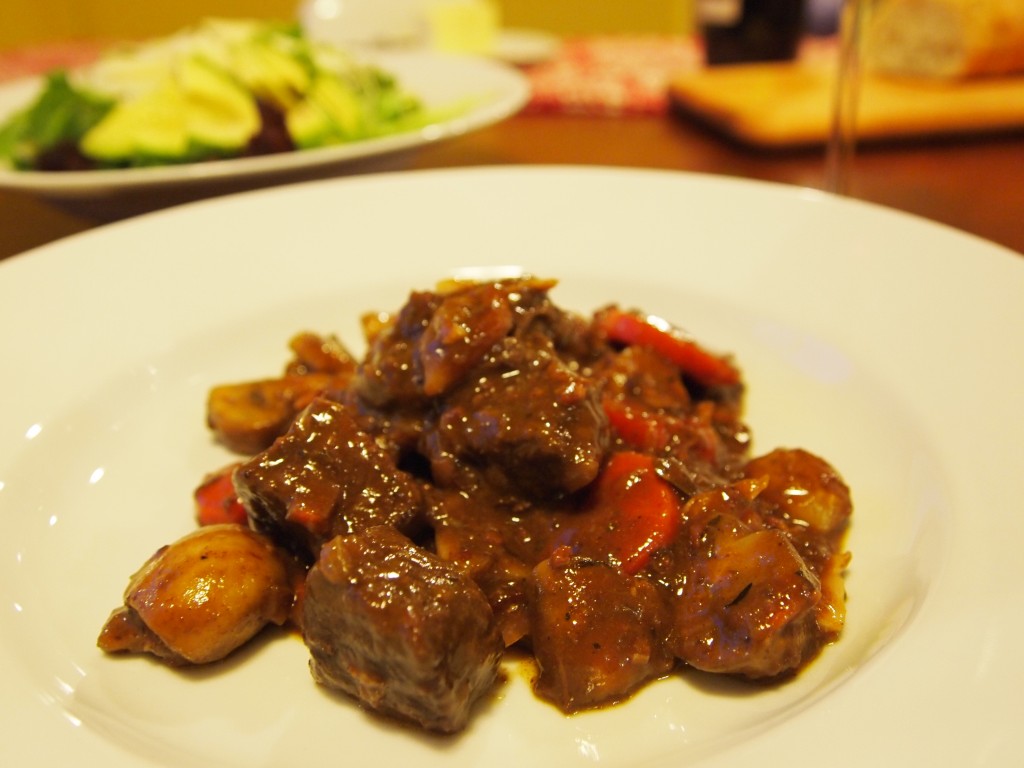 I am off to enjoy a run under sunny skies adorned with big, grey, spring-storm bearing clouds. It really is true what they say: if you don't like the weather in Montana, just wait 10 minutes. When I started writing this, it was full on snowing outside. Happy beautiful snowy May Day, all. And happy cooking!