Saturday, March 7, 2015
almond joy bars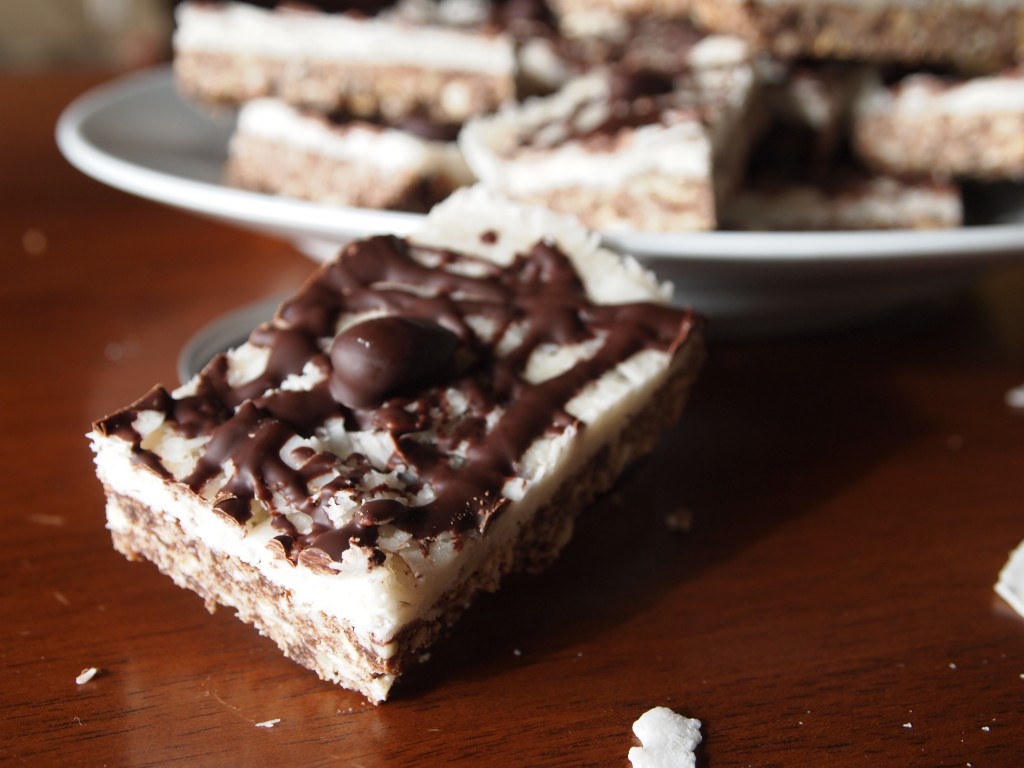 I came across the phrase "almond joy bars" somewhere in my online travels recently. I don't know if it was the Minnesotan in me who was intrigued by the word "bar" or what, but I was immediately inspired to create my own version. My mom has made her Chocolate Slice Christmas cookies since always, and the chocolate-coconut-walnut combo in those stood out as the perfect recipe to hack into an almond joy creation. So I present to you—mid-westerners and others alike—Almond Joy Bars.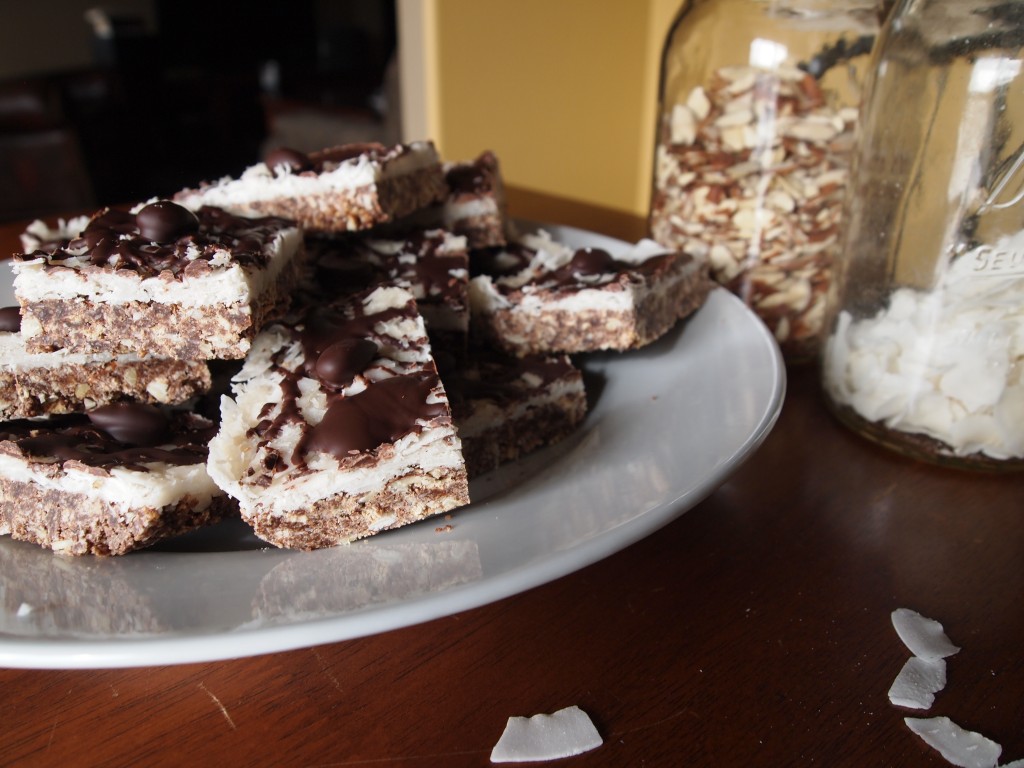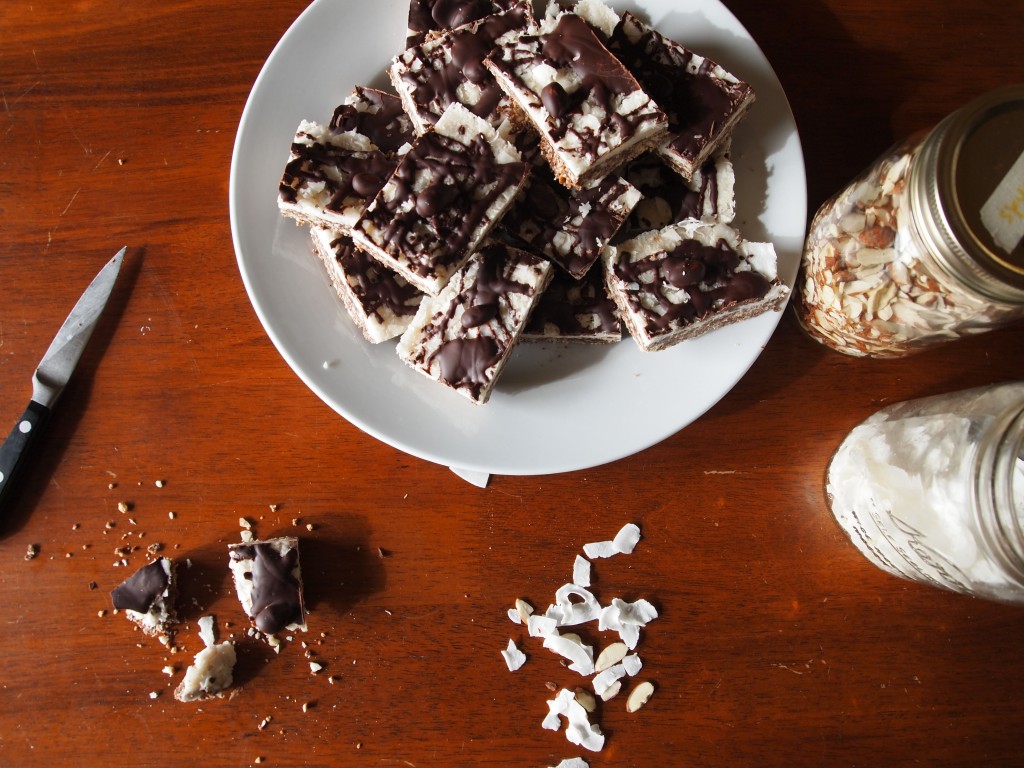 ALMOND JOY BARS

CRUMB BASE
1/2 cup extra virgin coconut oil
5 Tbsp. cocoa powder
1 egg
1 tsp. vanilla extract
5 Tbsp. turbinado sugar
1 cup finely shredded coconut
2 cups graham cracker crumbs
1/2 cup almonds, chopped
COCONUT TOPPING
3 Tbsp. extra virgin coconut oil
3 Tbsp. turbinado sugar
splash water (sugar is not soluble in coconut oil so needs a little water to dissolve)
1 cup finely shredded coconut
1 1/2 cups coarsely chopped coconut
16 almonds, whole
4 oz bar dark chocolate (or alternatively, 2 oz unsweetened chocolate mixed with 2 Tbsp. EV coconut oil for a little less sweet result)
Combine EVCO, cocoa, egg, vanilla, and sugar in a double boiler, stirring until fully melted and homogeneous. Stir in coconut, grahams, and almonds. Spread mixture into an ungreased 9×13 inch pan, pressing down until even. In same double boiler place dark chocolate, if using, or unsweetened chocolate and EVCO, if using, stirring until fully melted. Remove from heat and dip almonds into chocolate. Remove and let cool in the refrigerator on a plate lined with parchment paper. Once more in double boiler, combine EVCO, sugar and a splash of water, stirring until oil is melted and sugar dissolved. If sugar does not fully dissolve, add another splash of water. Add both coconuts and stir to coat. Press into an even layer atop the chocolate crumb base. Take remaining chocolate and drizzle over the coconut layer (if chocolate has already set, put back on boiling water for a minute to loosen again). Finally, place chocolate covered almonds in the center of each future bar. Plan to cut the pan into 16 pieces and spread almonds accordingly. Let cool in the fridge for at least one hour before cutting and serving. Makes 16 large bars.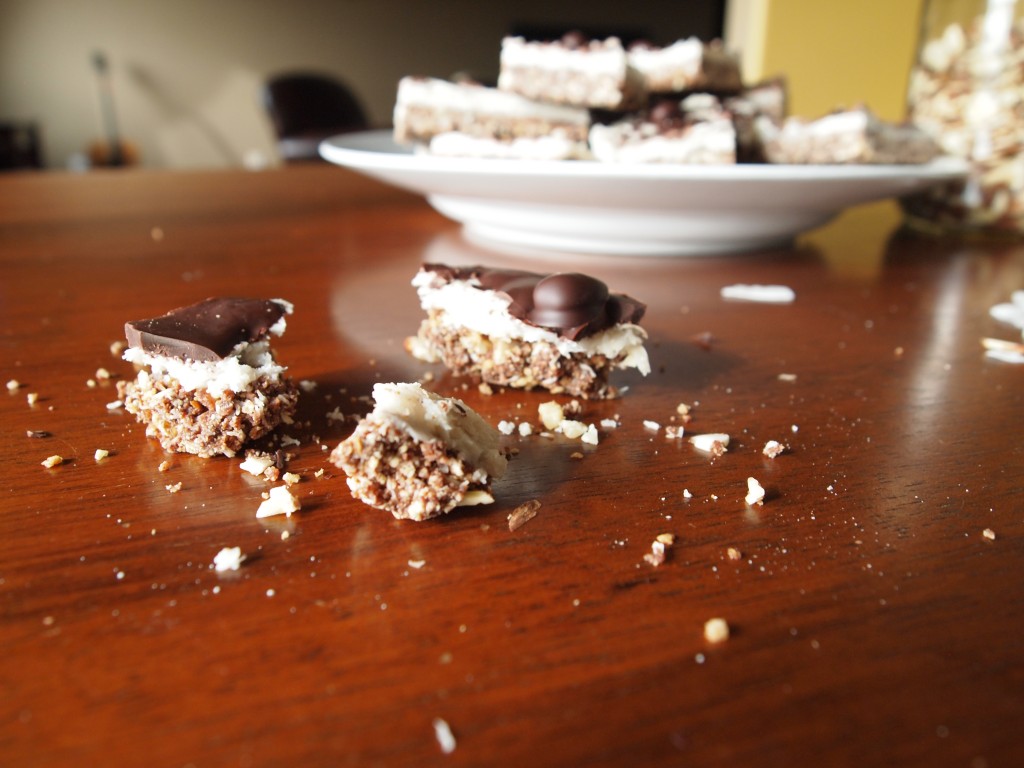 These turned out SO well. I was not planning on eating a whole one for breakfast this morning. But I did. And I highly recommend it. Let me know what you think, or if this is something that you might try yourself. I hope you enjoy! Happy weekend, all.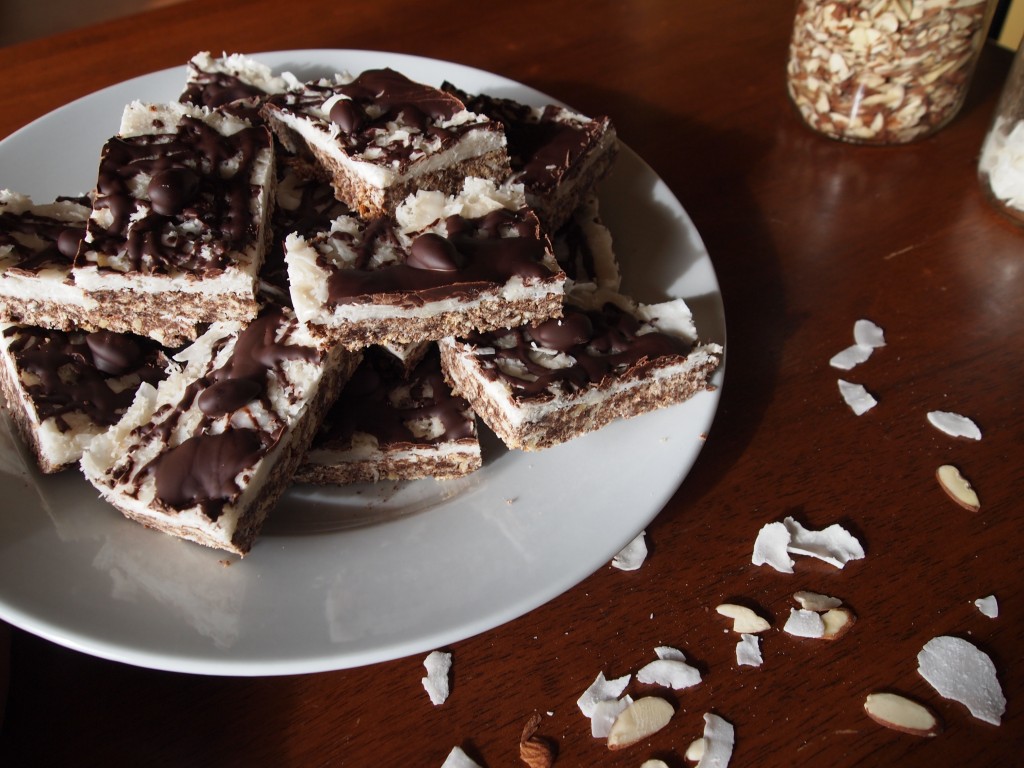 by Kristen
Categories: dessert | Tags: almonds, chocolate, coconut, coconut oil, cookies, turbinado sugar | 2 comments