Thursday, August 14, 2014
for the love of pie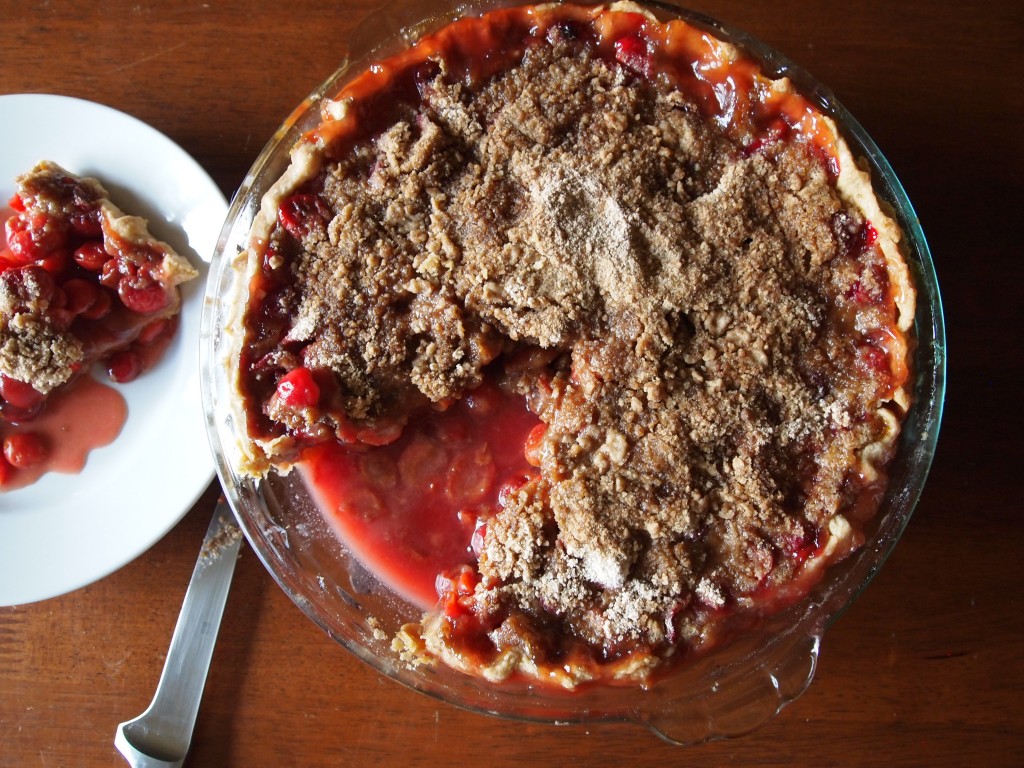 Baking a pie is always a labor of love. Not that it is particularly difficult to do—especially if you have a recipe for good crust, put anything in a good crust and it's sure to taste good—but it is a multi-step process and it takes a little time. First you have to make the crust (and in some cases bake the crust) and then you have to fill that crust and bake it all over again. This pie was no exception. It was, in fact, a somewhat laborious labor of love. Especially because I don't own a cherry pitter. I spent three hours the night before baking this pie slicing sour cherries in half and removing their tiny little pits while watching old episodes of The Simpsons. By the end, I was covered in sour cherry stickiness up to my elbows. Andy (my husband) thought that I was crazy. But it was for the love of pie. Besides, what else do you say to your friend who asks if you want two pounds of freshly picked cherries except, "Why yes. Yes I do?"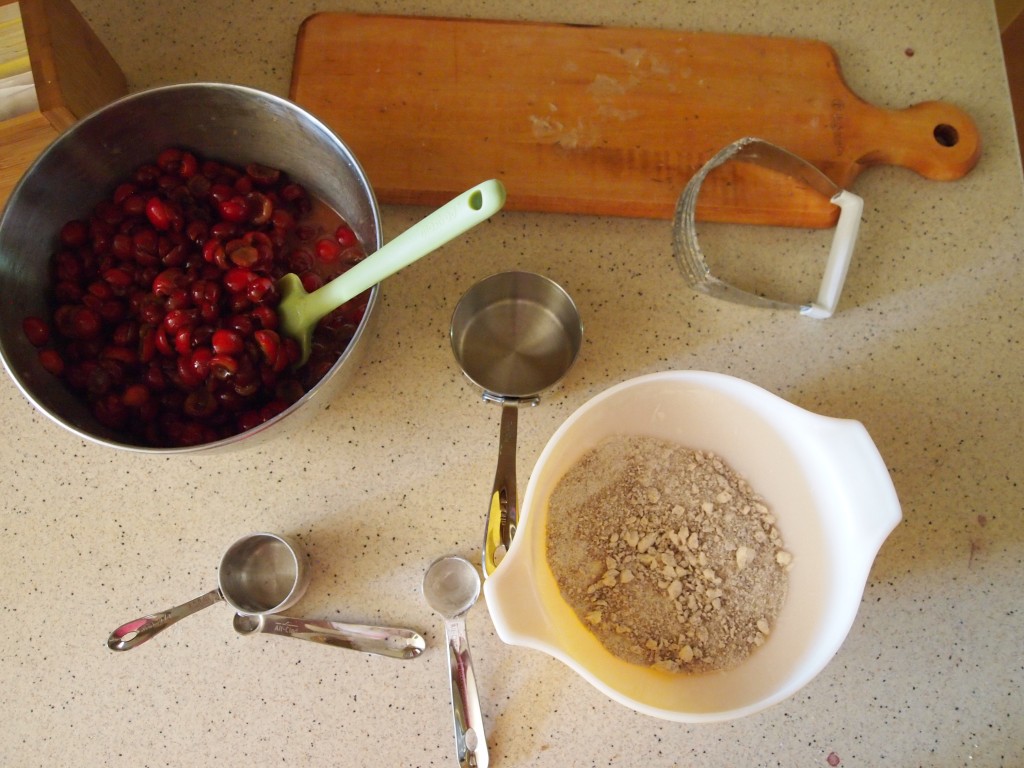 I came up with this recipe on a whim and am pretty proud of the way it turned out. My only problem was that there was too much liquid. As you can see in this picture, there were a lot of juices that seeped out from the cherries overnight. In my head, all of these juices were going to congeal into a delicious sour cherry goo. This, unfortunately, did not happen and instead became a sour cherry soup in the bottom of my pie plate. I think it would have been perfect had I just drained this excess liquid off before adding the cherries. Other than this small modification, the recipe remains the same.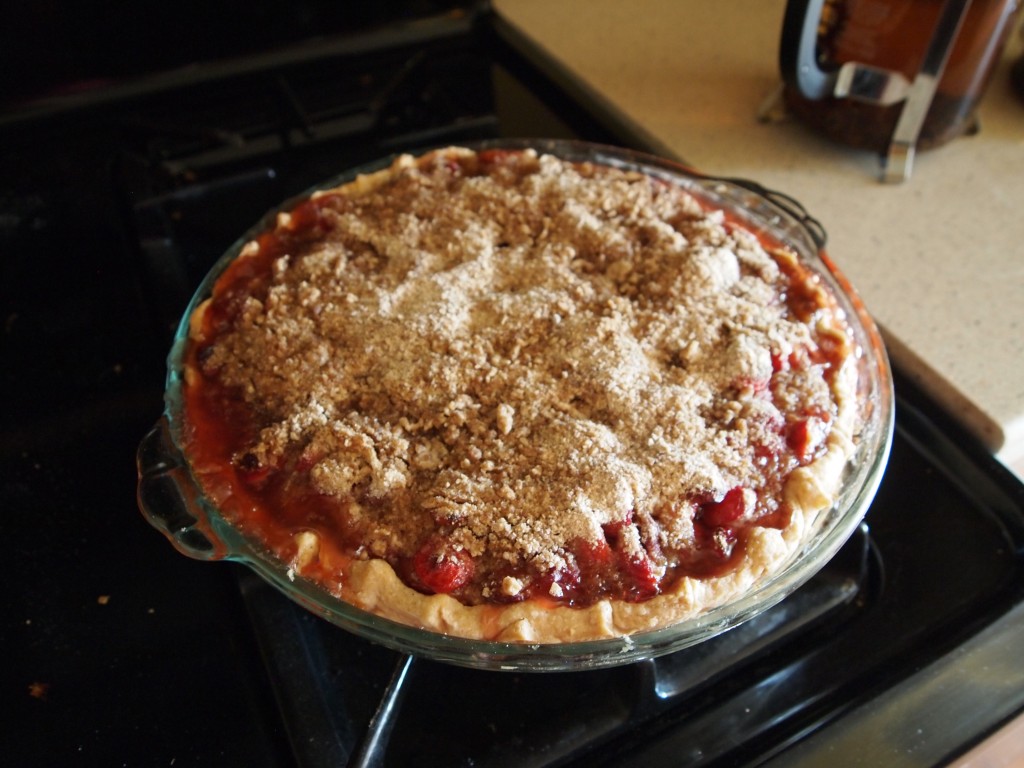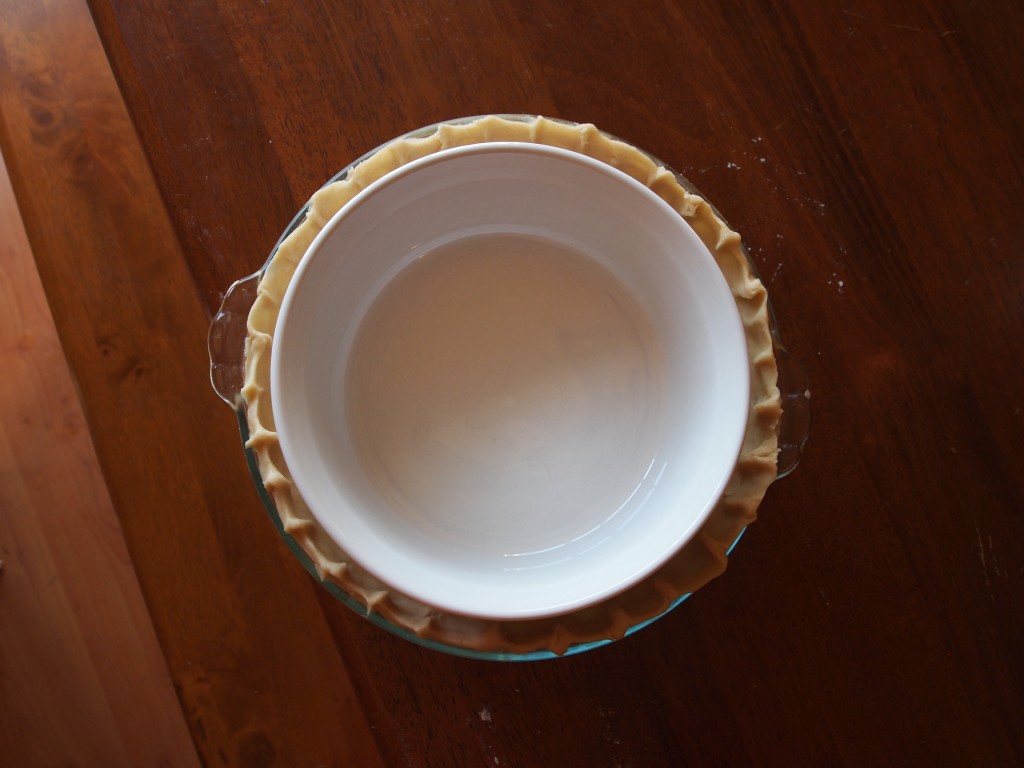 Who needs pie weights when you have another, slightly smaller, baking dish to set inside?
GRANDMA'S PIE CRUST
3 cups all-purpose flour (I experimented this time with 1 cup whole wheat pastry flour)
1 cup lard (1/2 of 1 lb. box)
1 tsp. salt
1 egg
5 Tbsp. cold water
1 tsp. white vinegar
Mix flour, lard, and salt with a pastry blender until crumbly and lard pieces are pea-sized. In a small bowl mix egg, water and vinegar. Add to flour lard mixture and mix together with hands until no longer tacky. Roll out crust on floured surface. Makes 3 single pie crusts. Bake 8-10 minutes at 450 degrees for a pre-baked shell.
SOUR CHERRY STREUSEL PIE
1 pre-baked pie crust
6 cups pitted sour cherries, drained of excess juice
1 cup turbinado sugar
3 Tbsp. corn starch
1/2 tsp. ground cardamom
1/2 cup brown sugar, packed
1/2 cup whole wheat pastry flour
1/2 tsp. ground cinnamon
1/4 tsp. salt
2 Tbsp. cold, unsalted butter, cubed
Preheat oven to 375 degrees. In a large bowl, gently combine cherries, turbinado sugar, corn starch, and cardamom. Turn out into a pre-baked pie shell. In a small bowl, combine brown sugar, flour, cinnamon, and salt. With a pastry blender, cut in butter until only small, pea-sized pieces of butter remain. Sprinkle streusel mixture onto cherries, spreading evenly. Bake for 45 minutes or until fruit is bubbling and the top is golden.
I hope you enjoy! What else do you make with your sour cherries?