Wednesday, June 11, 2014
nectarine and berry galette
Galette: (noun) a flat round cake of pastry or bread, often topped with fruit. Aka, a French free-form tart. Aka a fruit pie, minus the pie plate. Aka an unfussy, fancy looking dessert. This is my experimental galette. I simply threw everything on a baking sheet, and hoped for the best. It was delicious! I couldn't quite figure out how to actually move the galette (a cake lifter?), but everyone will be distracted enough by the delicious taste to care much about what the plate looks like. I declare this experiment a success!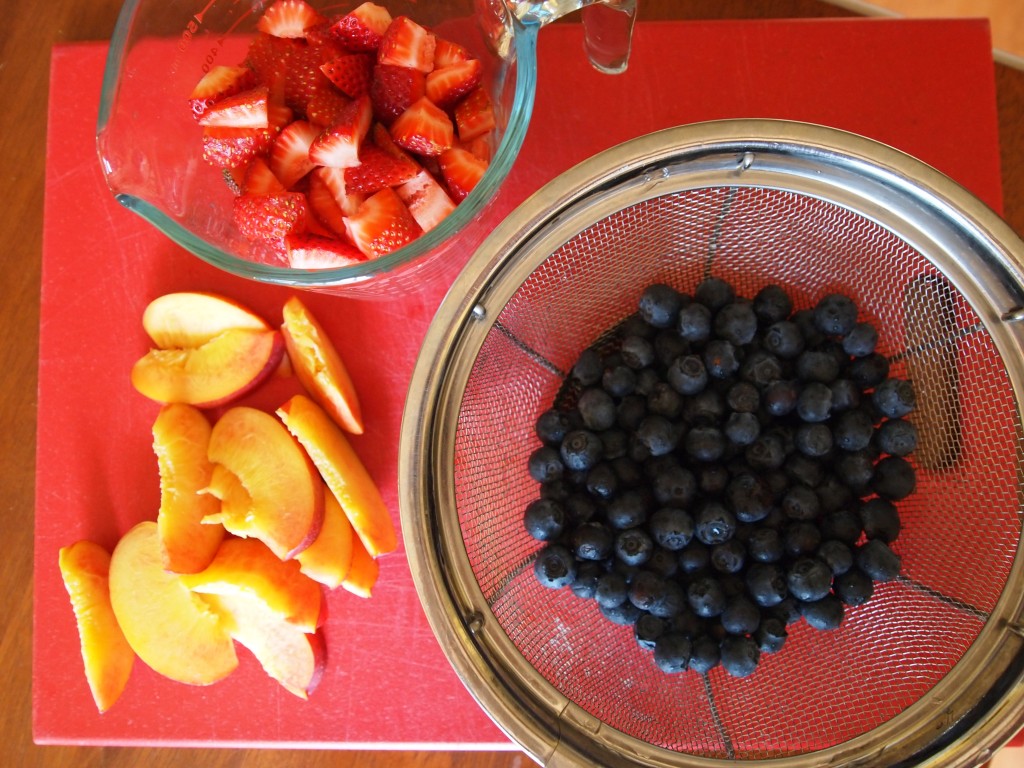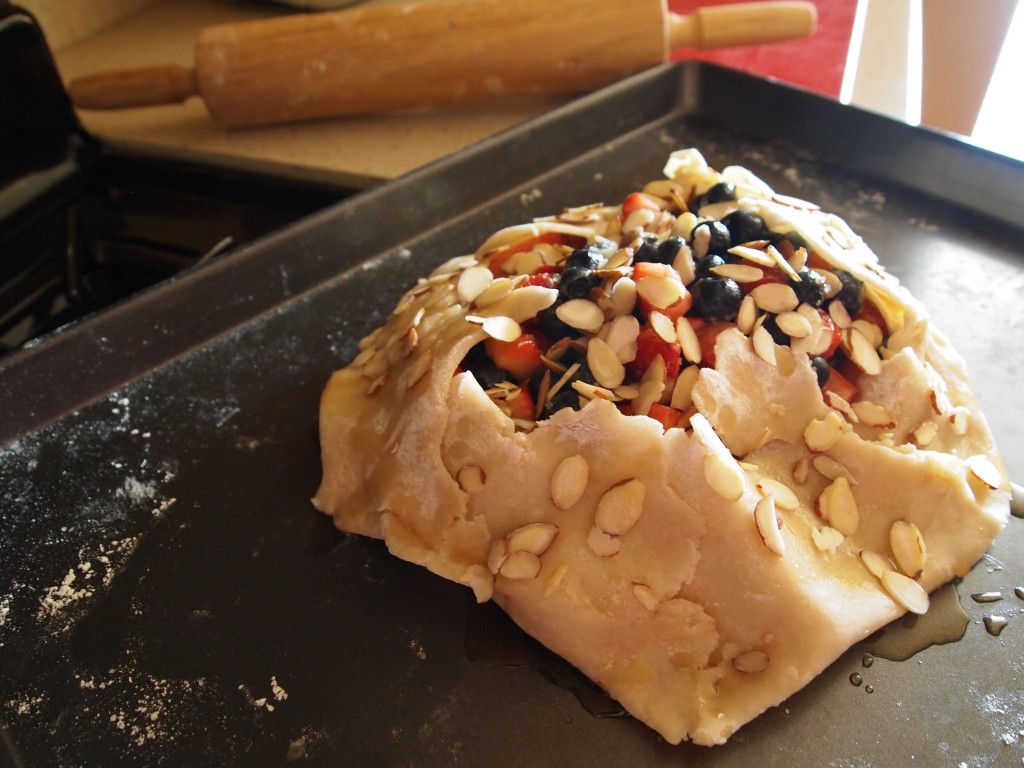 NECTARINE AND BERRY GALETTE
1 unbaked pie crust (recipe here)
1 nectarine, sliced
1 cup strawberries, sliced
1 cup blueberries
1 tsp. almond extract
2 Tbsp. all-purpose flour+more for rolling pie crust
1/8 cup turbinado sugar
1/8 cup maple syrup
1/8 cup almonds, sliced
Preheat oven to 400 degrees. Take dough for one pie crust and roll it out to make about a 14 inch circle, generously sprinkling counter and dough with flour to prevent sticking. In a medium bowl, combine fruit, almond extract, flour, sugar, and half of the maple syrup. Place prepared crust onto a large baking sheet, preferably with side walls to prevent any juices from dripping onto the bottom of the oven. Pour fruit mixture onto crust. Start folding up the sides, pinching the dough at any corners to seal in the juices, to form a sort of dough bowl. Drizzle remaining maple syrup over exposed crust to help with browning and to help the almonds adhere. Sprinkle the sliced almonds over the top the the galette, collecting any from the pan and pressing them onto the syrupy dough. Bake galette for 10 minutes at 400 degrees, then turn down the oven to 350 and bake for another 25 minutes. Let cool and enjoy on its own or with some vanilla ice cream. Serves 8.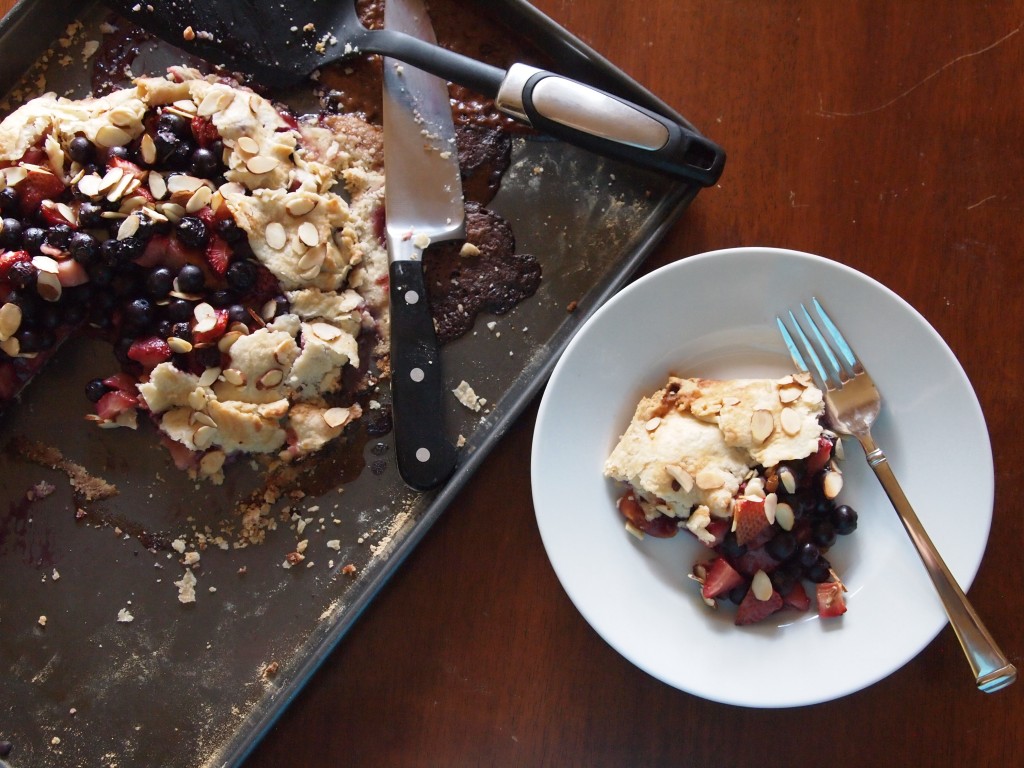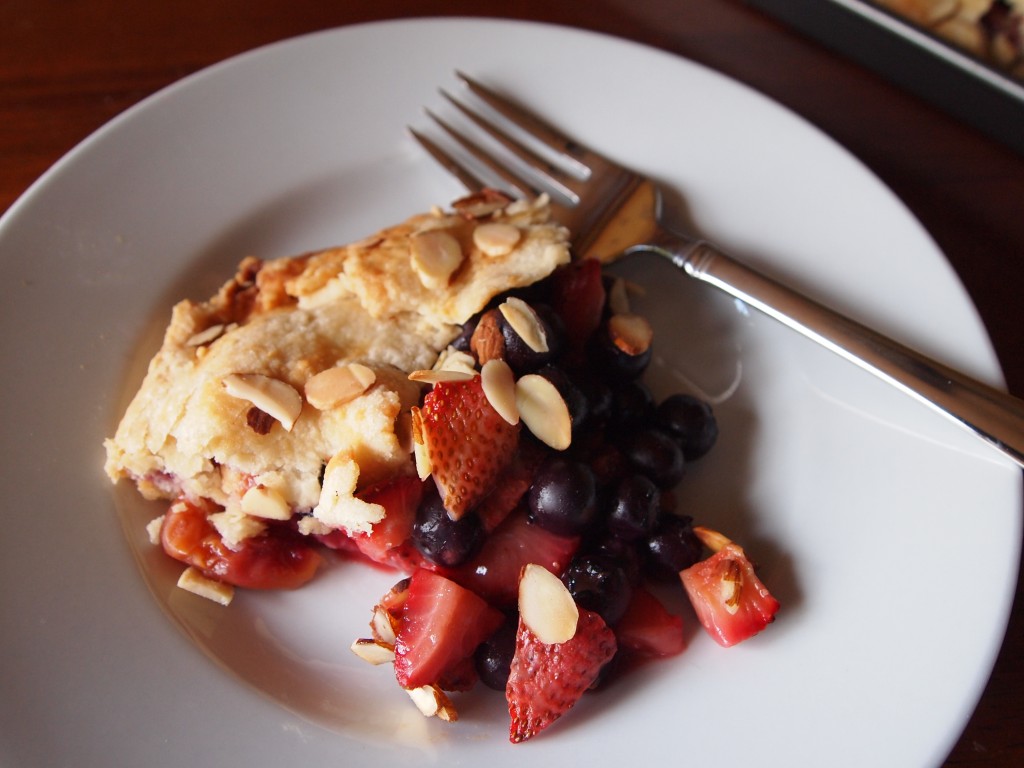 This is a great late spring/early summer recipe that captured the flavors of fresh, seasonal fruit. It isn't overly sugary but instead pops with bright fruit flavor. You could easily substitute whatever seasonal fruit is readily available to you. And it is the perfect breakfast pastry, because (once again) who doesn't want dessert for breakfast? Enjoy! Thanks for looking!