Thursday, November 7, 2013
garden bloody mary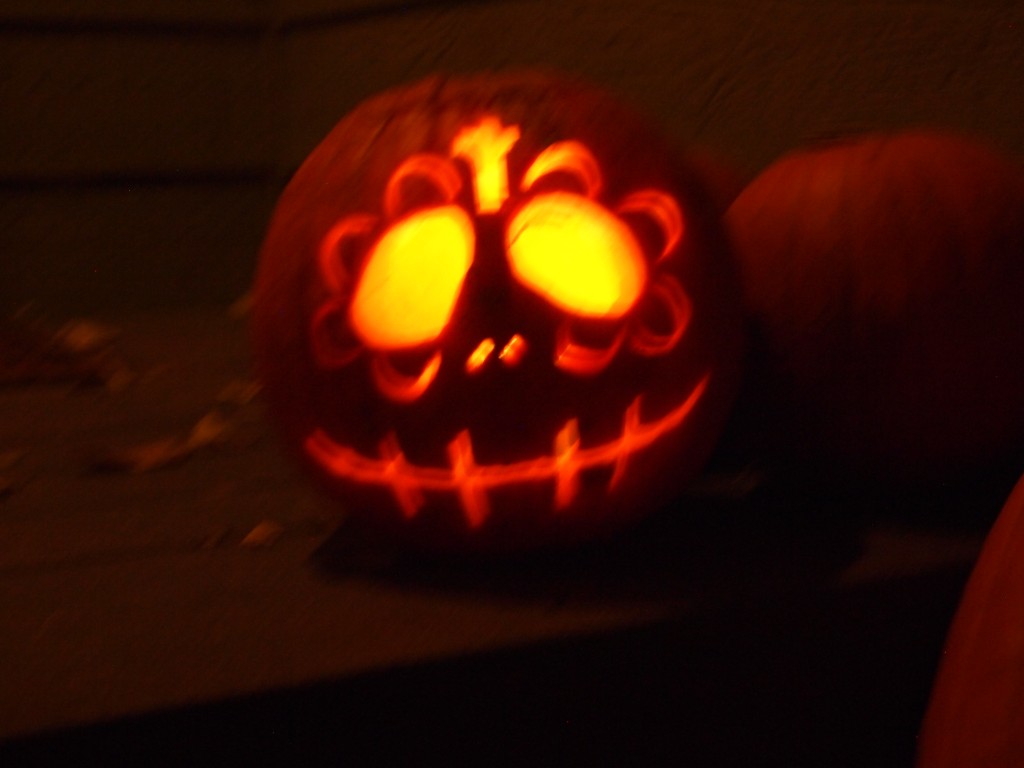 Boo!
Hello, dear internet! It has been such a long time. I'm sorry to have stayed away so long. It all started with a vacation to Minnesota this summer, turned into house projects, and became trying to suck every last, sunny ounce out of a wonderful summer turned wonderful fall. But Sunday the snow started to fly and I have returned. This is my Dia de los Muertos pumpkin from Thursday. Please ignore the blurriness; like a proud mama I thought it was worth a share anyway. Thursday also marked the one year anniversary of publishing Kiki Bird Kitchen. Thank you for being patient with me as I have tested the blogging waters and thank you for reading the (sometimes gibberish) musings of a 20-something amateur cook/baker.
I'm not going to lie. These Bloody Marys are from at least a month ago. Back when the tomatoes had been recently harvested from the garden. Before the first autumn frost. Before the snow had come for good. And I'm just getting around to sharing now. Oops.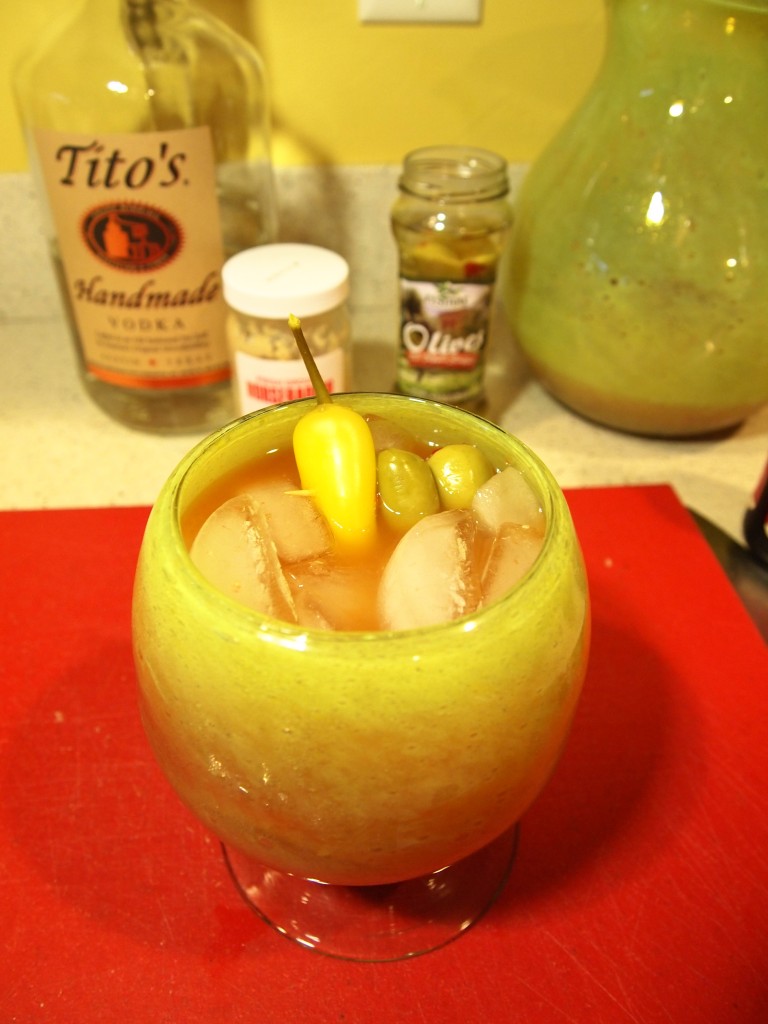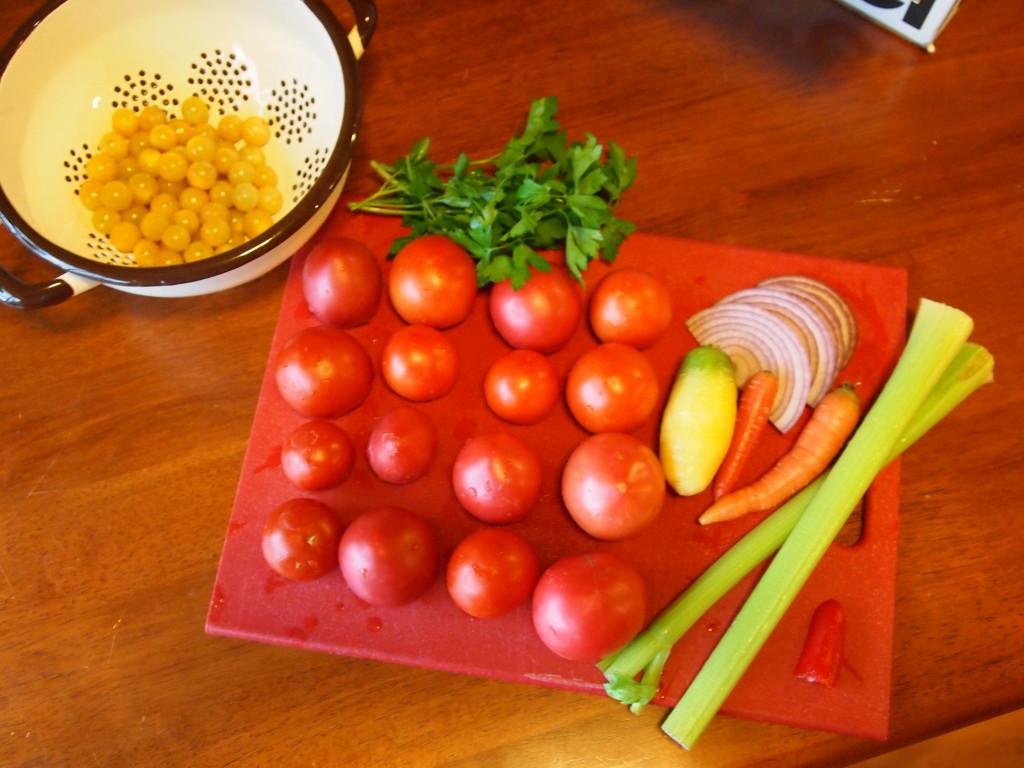 GARDEN TOMATO JUICE (inspired by Mama Anderson)
18 small fresh tomatoes, chopped*
1 1/2 cups sweet, yellow cherry tomatoes, halved*
3 small carrots, or one large carrot*
2 stalks celery, chopped once in half
3 slices red onion
1 jalapeño, cut in half, seeds and veins removed*
3 sprigs fresh flat leaf Italian parsley
water, enough to cover all ingredients in pot
3 Tbsp sugar
1 tsp salt
*Signifies an ingredient from the garden!
Add all ingredients up to the parsley into a large soup pot. Fill the pot with enough cold water to just cover ingredients. Bring to a boil. Reduce heat, cover and simmer for 30 minutes. Strain juice from remaining contents into a pitcher. WARNING: Reserve juice! Don't empty down the drain!!! Discard remaining pulp. Let cool to room temperature before storing tomato juice in the fridge. Enjoy as is or continue on to make a Garden Bloody Mary.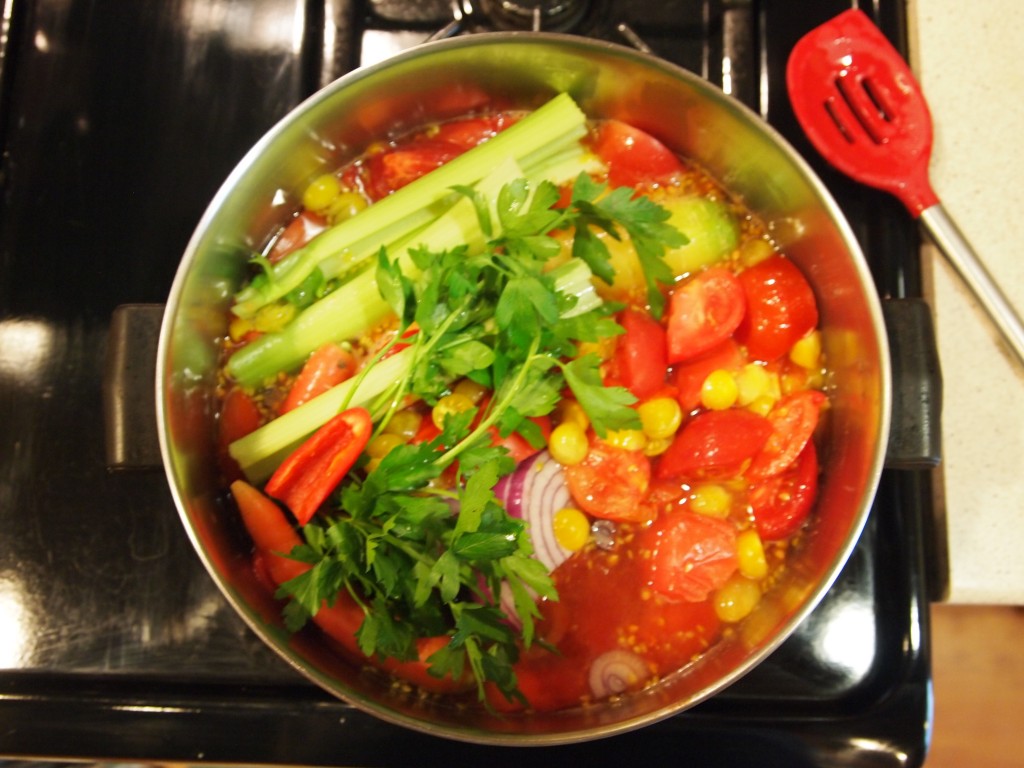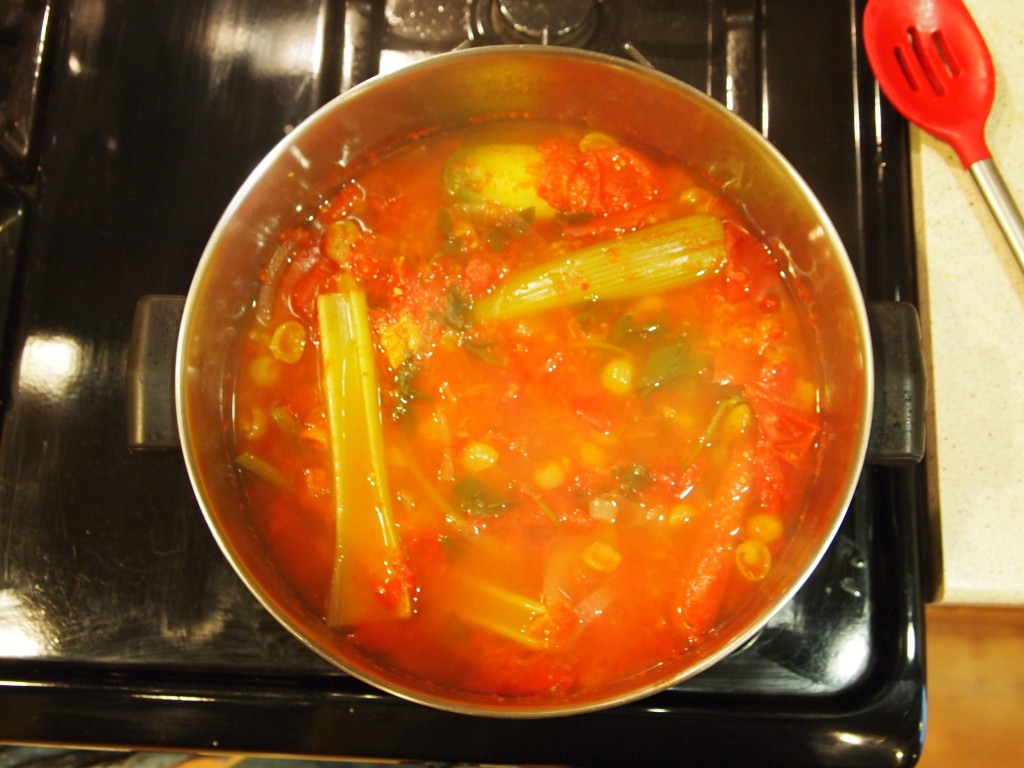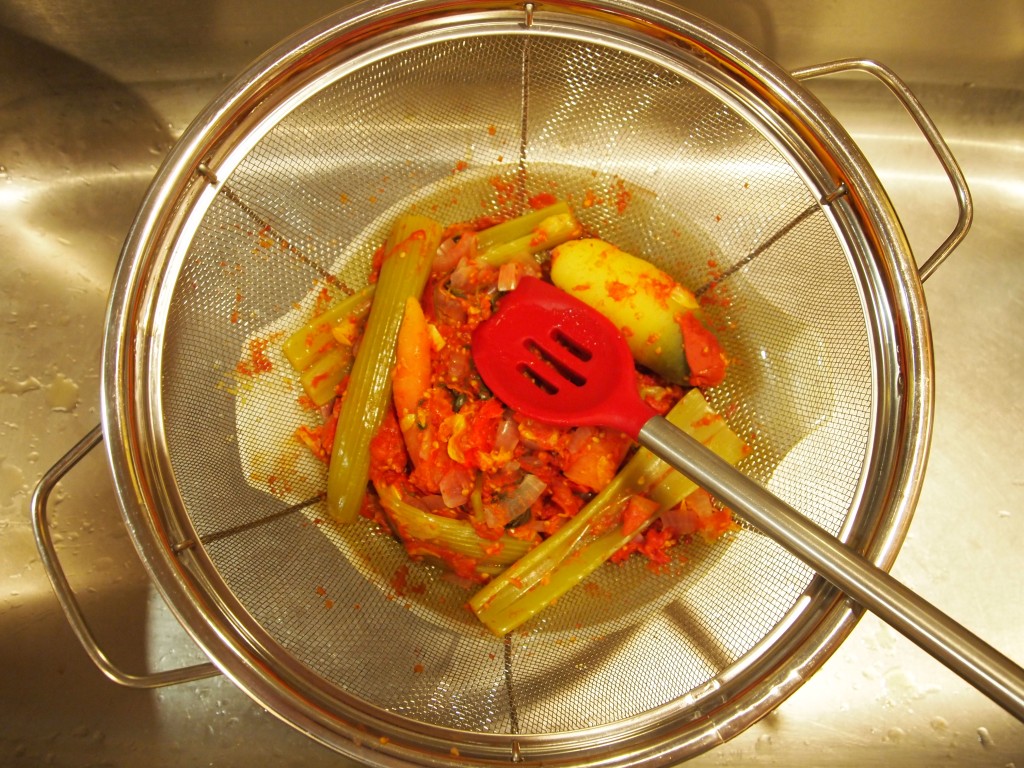 GARDEN BLOODY MARY
2 1/2 oz vodka
1 Tbsp horseradish
2 dashes Worcestershire sauce
3 dashes hot sauce
pickled peppers and olives
garden tomato juice
ice
Fill a large cocktail glass with ice. Add vodka, horseradish, Worcestershire, and hot sauces. Top off with garden tomato juice and stir. Finish with an excessive amount of olives and peppers and (I couldn't find it but hopefully you can) pickled asparagus because we all know those are the best parts about Bloody Marys. Perfect for weekend morning football games or breakfast-for-dinner nights.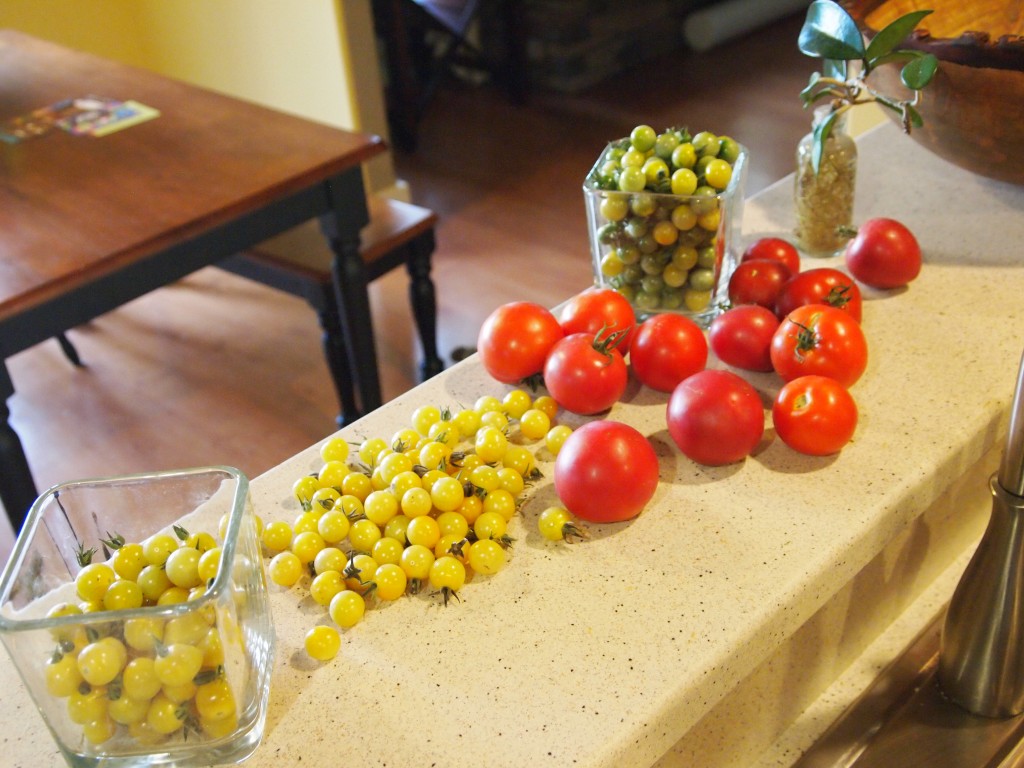 I love all the colors of the tomatoes in this photo. Making food with your own garden produce is so satisfying. You know exactly where it is coming from and what chemicals (or lack there of) were used in growing said produce. Now I only have some kale and carrots left until next summer. Does this mean that ski season is upon us???
In the spirit of the season, some pumpkin baked goods have been calling my name. I hope I will be able to share them with you all soon because I love pumpkin. And spice. And baked goods! Thank you for reading and, as always, your comments are greatly welcomed and appreciated below.