Tuesday, July 30, 2013
bluebarb pie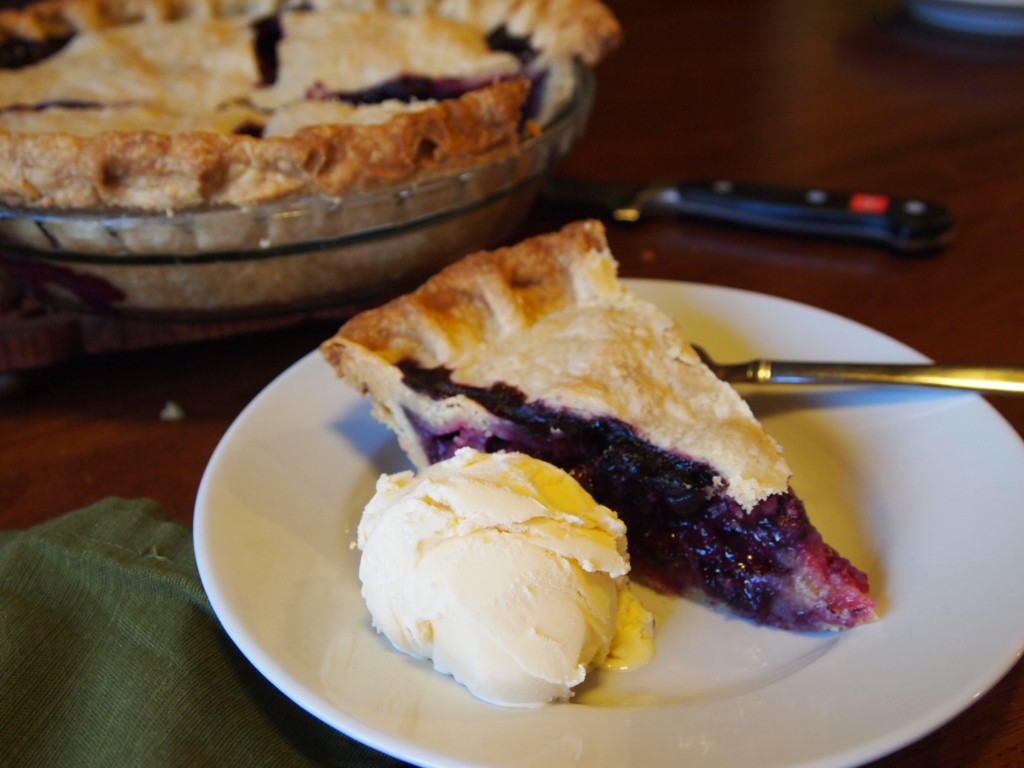 Pie. It is so damn good. There is something alluring about pie, too. If you bring a pie into a room, there is way more excitement than if it were a cake (or maybe that's just me projecting my pie love onto others). It seems so much fancier than cake, and can be so much more intimidating when deciding to make one. When we got married, Andy and I served pie, not cake, for dessert because its rustic elegance suited us. But even with all its charms, really, pie is simple. It uses just a few ingredients. It's usually not as sugary sweet as some desserts. It's all about technique. And really cold lard.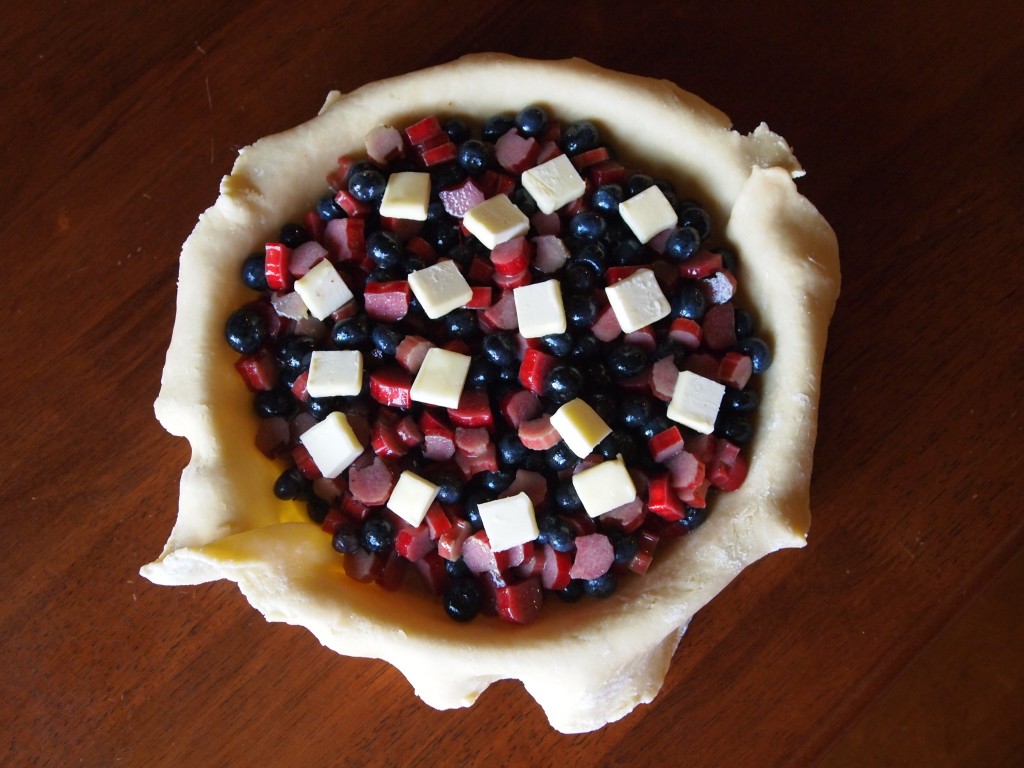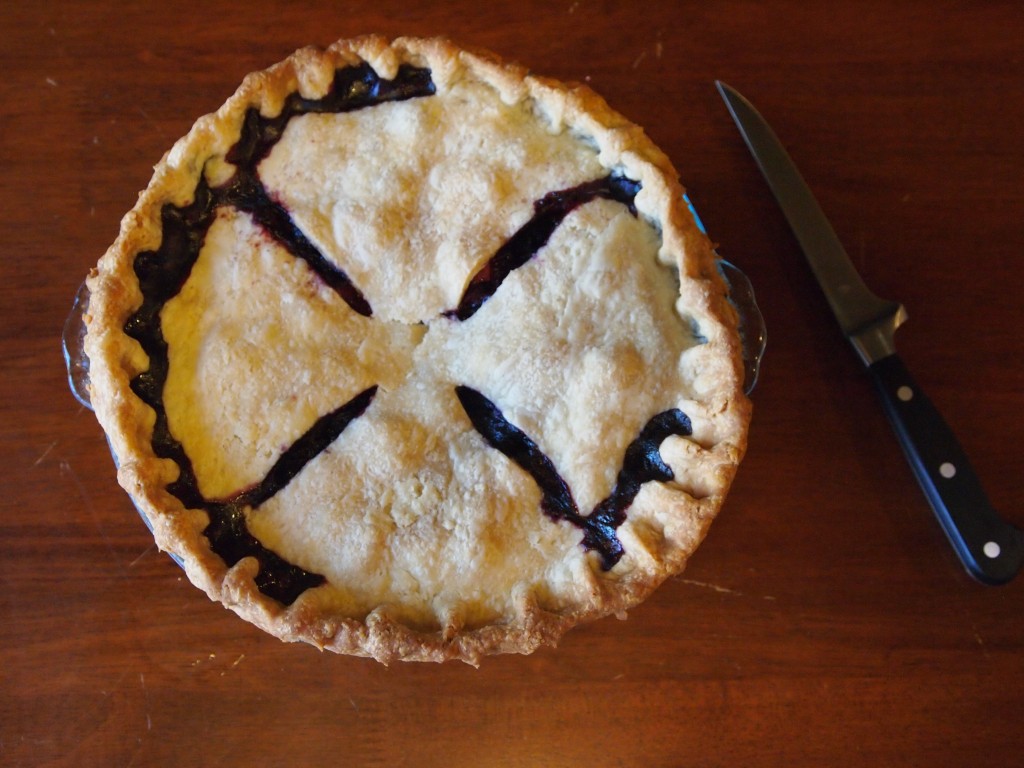 Isn't it beautiful? That open faced crust with pie filling and dotted with butter is one of the most delicious looking uncooked things I have ever seen. Mmmmm.
BLUEBARB PIE (a mish-mash of some online blueberry pie recipes and a family rhubarb pie recipe)
 3 cups blueberries, rinsed
3 cups rhubarb, sliced into 1/4 inch pieces
2 eggs
3/4 cup sugar
1/4 cup flour
1/4 tsp. freshly ground nutmeg
1/4 tsp. salt
2 Tbsp. butter, cut into small pieces
2 pie crusts
Beat eggs in large bowl. Add blueberries and rhubarb and mix. In a separate bowl, stir sugar, flour, nutmeg, and salt. Combine dry ingredients with berries and rhubarb. Pour into bottom crust, top with dots of butter. Cover with top crust and pinch together (or "flute") edges, sealing in all of the delicious pie juices. Bake pie for 10 minutes at 450 degrees, then turn down heat to 375 degrees and bake for another 55 minutes until crust is golden and filling is bubbling and oozing from the vents. Let cool for at least an hour. Serve warm, topped with vanilla ice cream.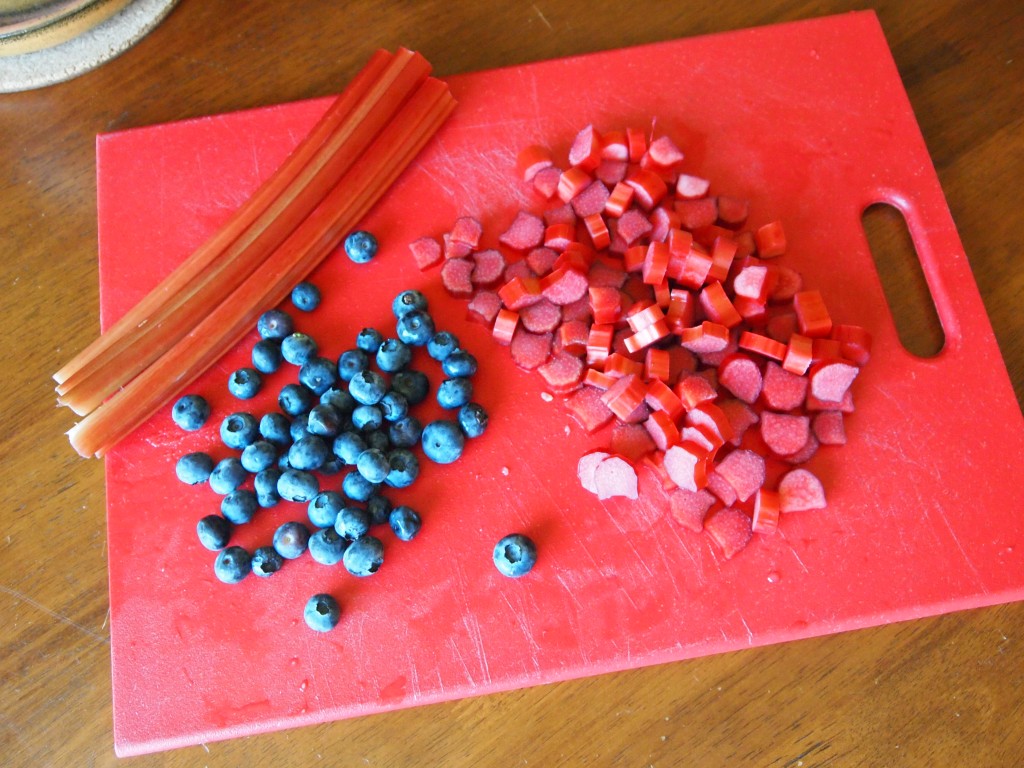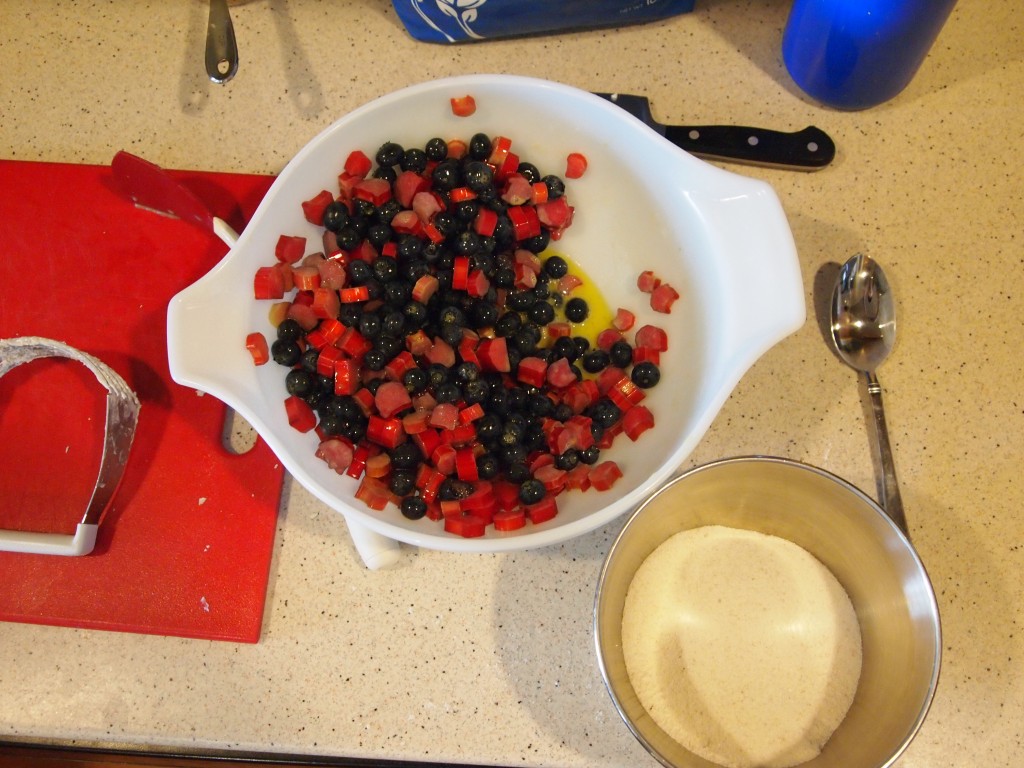 I have always used my grandma's all lard pie crust recipe, which, at the risk of sounding cliché, makes the best pie that I have ever tasted anywhere. As much as I love you all, I am not going to share that recipe with you today. Maybe someday, but not today. The biggest thing that you should know is that lard makes the tastiest, flakiest crust you will ever eat (fact). And I have always used a simple pastry blender to cut in the cold lard. You don't have to worry about over mixing because your arm is tired by the time it is time to stop blending. Here is a substitute recipe that is the closest that I could find to the real deal. Follow this recipe, but instead of dividing the ball into four portions, do just three to leave enough crust to make big beautifully fluted edges. Roll out one ball at a time until it is big enough to fill a 10 inch pie plate with comfortable overhang (see pictures). Fold in half to easily center in your pie plate. Do the same for the top crust, but cut vents to allow for steam to escape and juices to bubble over. After fluting edges, cut off any excess crust. Bake these scraps, topped with a little cinnamon and sugar, for a few minutes until golden for an extra treat. These crust cookies are one of the best things about making a pie.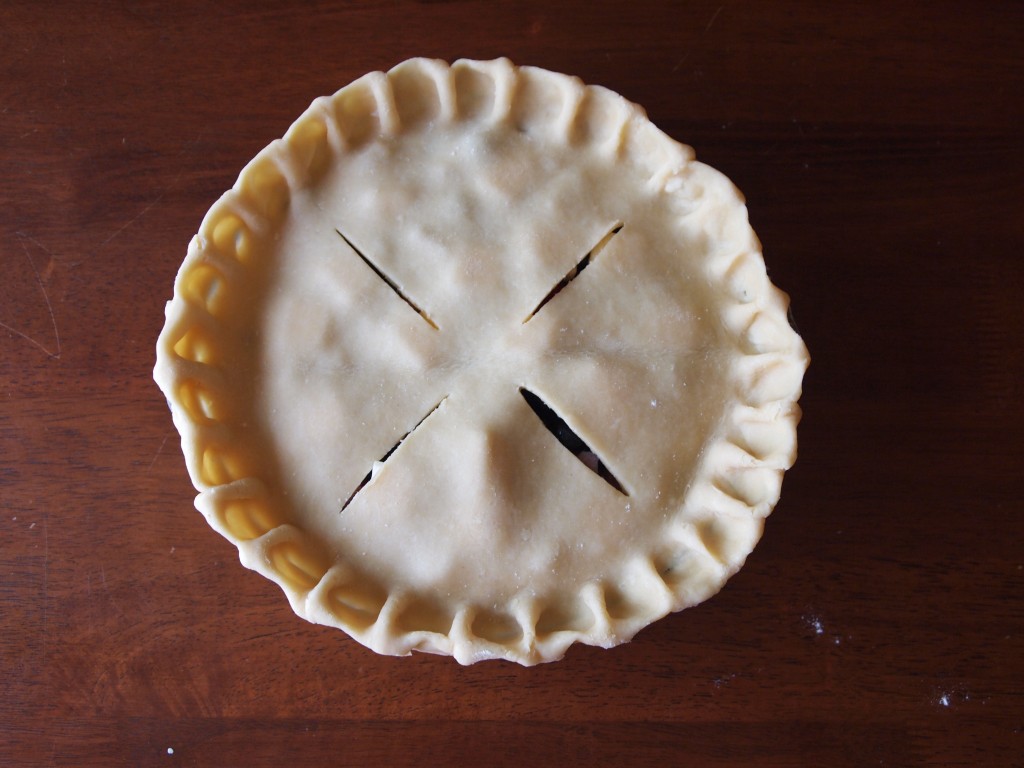 This recipe makes a pie filling with thick, custard-like consistency. Between the eggs and flour things thicken up nicely. If you like a runnier pie, try cutting out some of the egg and/or flour.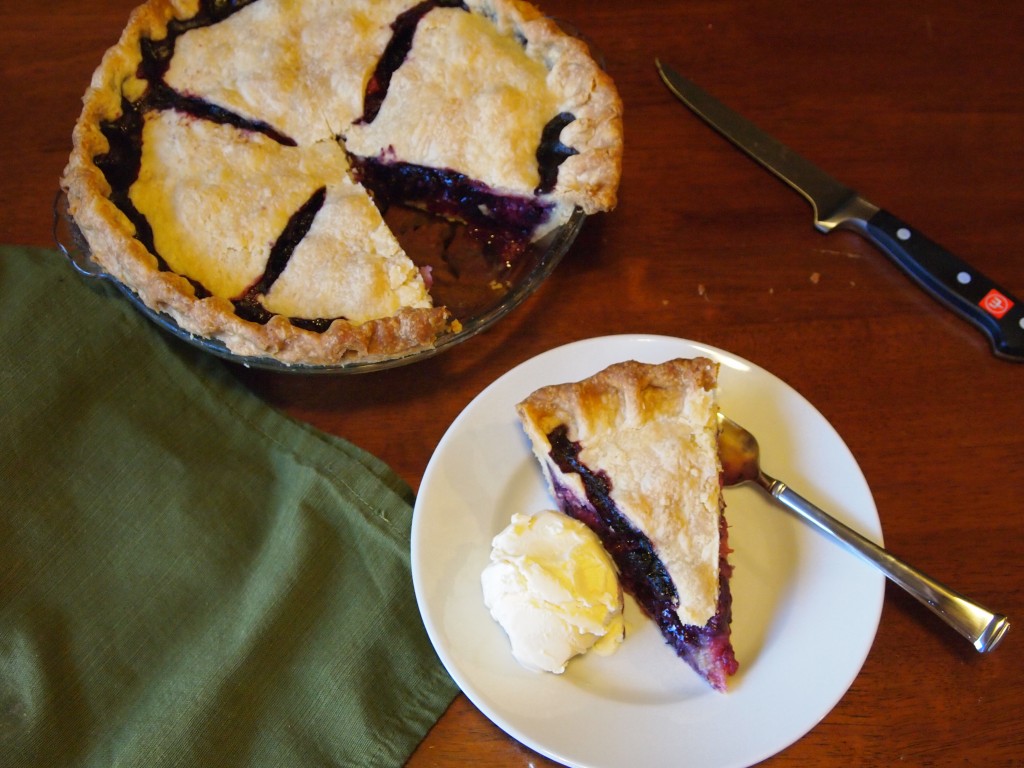 I kind of have inspired myself to make pie more often. This was deliciously simple. If you are also inspired, then good luck on your pie baking endeavors. As always, please leave any questions, comments, or suggestions in the comments section below. Until next time, happy baking.