Wednesday, May 8, 2013
heidi swanson's black sesame otsu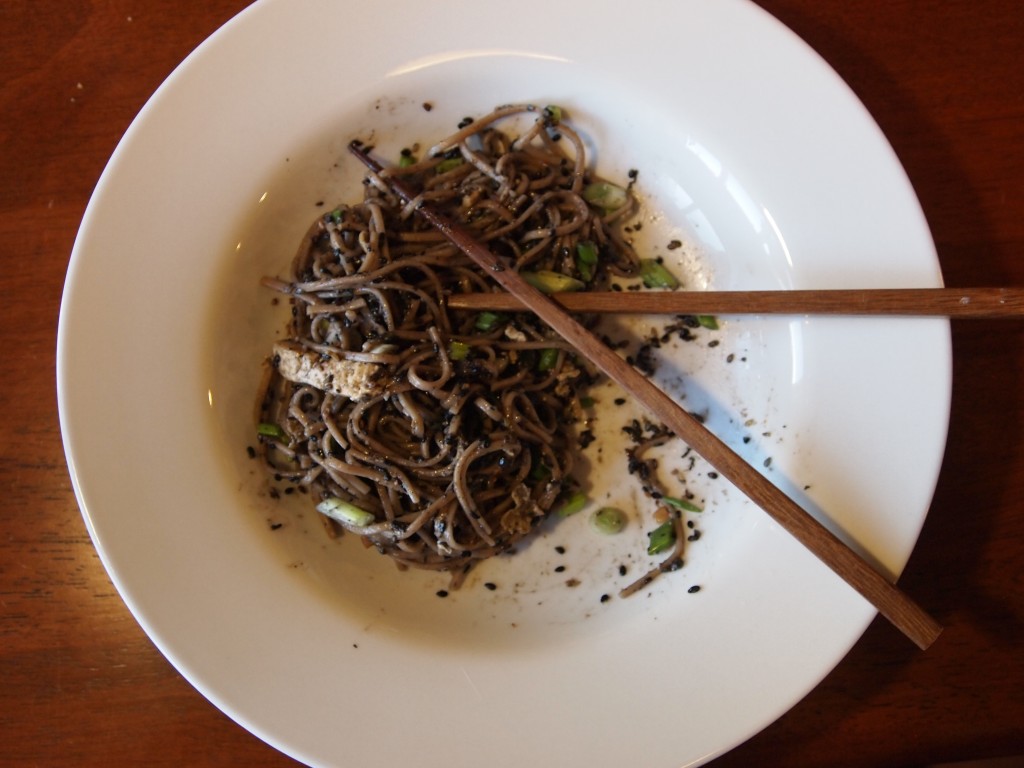 Ok. I admit it. I am obsessed with this cookbook. But you should be too. Everything in it is SO GOOD! I have yet to be disappointed with something I choose to make. And call me old fashioned or what have you, but I love how I am trying new combinations of ingredients,or even just plain old new ingredients — things I haven't even heard of before — when I make some of these recipes. This recipe was even up there on the "Andy approval scale." My meat eating husband was giving this tofu filled, cold noodle dish rave reviews, even going so far as to say it wouldn't be as good made with chicken instead of tofu.  I take this as high praise.
When plugged into an online Japanese-English dictionary (yes, this was one of those things I hadn't heard of before and no, Wikipedia does not have a satisfactory entry), I found that Otsu is a city in Japan and also means strange, quaint, stylish, chic, spicy, or queer. What a funny little word: otsu. I like the sound of this, almost as much as I like the taste.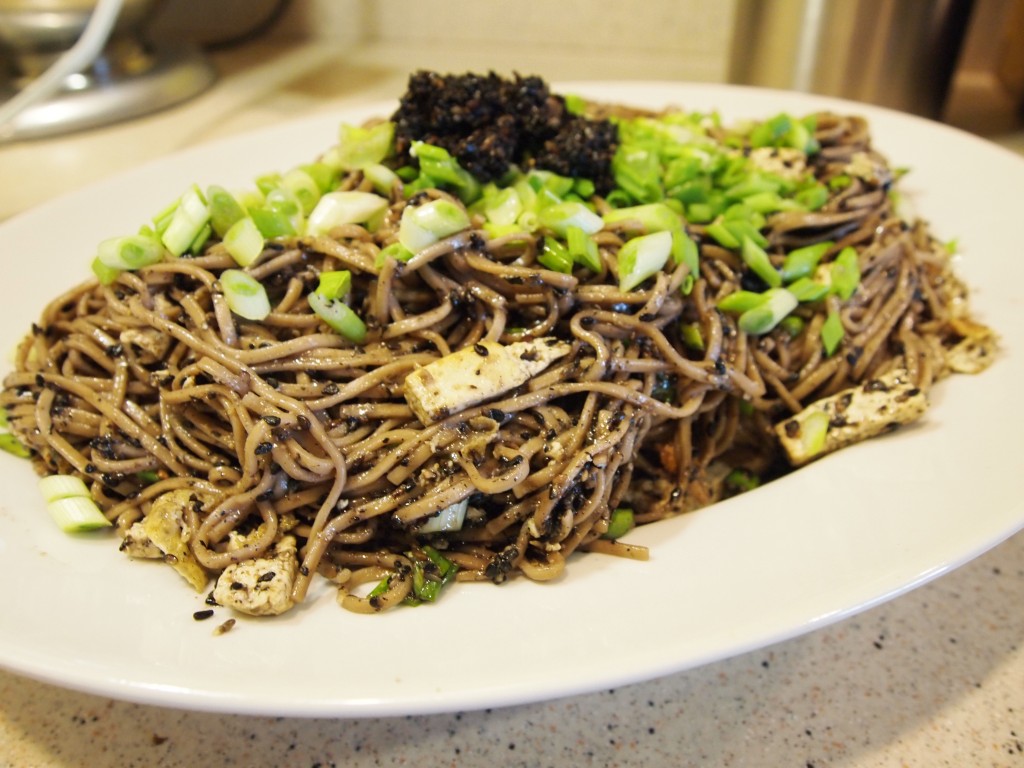 BLACK SESAME OTSU (From Heidi Swanson's Super Natural Every Day)
1 tsp. pine nuts
1 tsp. sunflower seeds
1/2 cup black sesame seeds
1 1/2 Tbsp. natural cane sugar
1 1/2 Tbsp. shoyu, tamari, or soy sauce
1 1/2 tsp. mirin
scant 1 Tbsp. toasted sesame oil
2 Tbsp. brown rice vinegar
1/8 tsp. cayenne pepper
fine-grain sea salt
12 oz soba noodles
12 oz extra-firm tofu
extra-virgin olive oil
1 bunch scallions, thinly sliced
Toast pine nuts and sunflower seeds over medium heat until golden, shaking the pan regularly. Add sesame seeds and toast for about a minute. Remove from heat as soon as you smell a bit of toasted sesame. Don't let them go further or they will burn. Transfer to a mortar and pestle and crush the mixture until it resembles black sand. Stir in sugar, soy sauce, mirin, sesame oil, vinegar, and cayenne. Taste and adjust seasoning if necessary.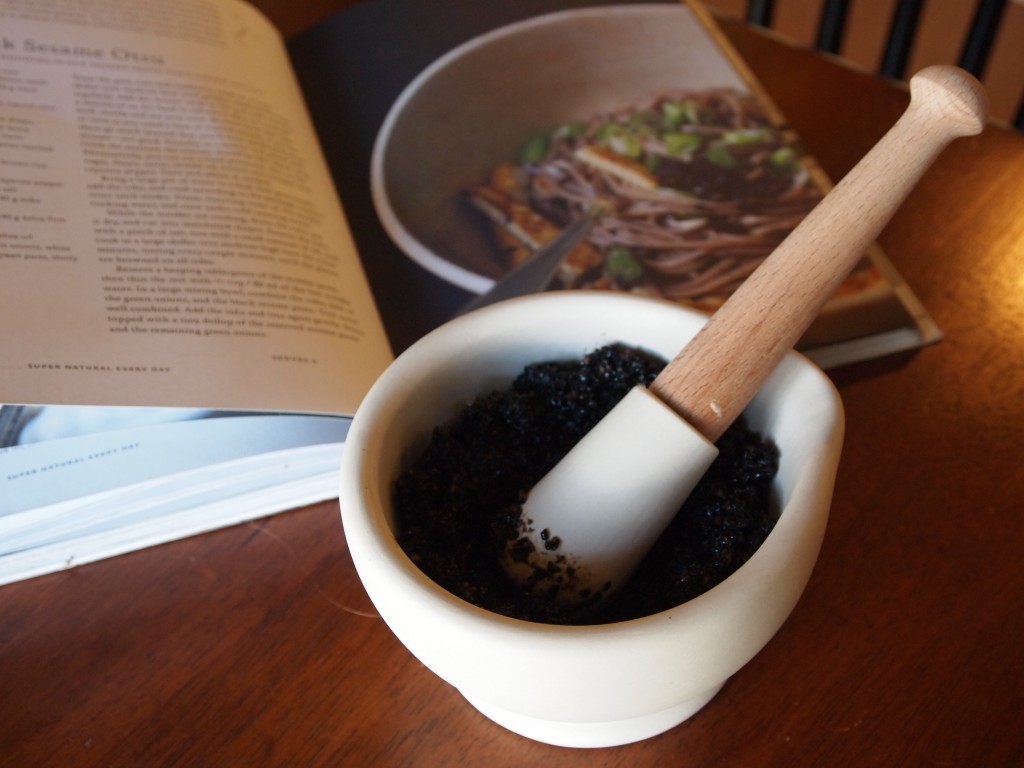 Bring a pot of water to boil. Add salt and soba noodles, cooking according to the package. Drain, setting aside 1/3 cup of the cooking water, and rinse noodles under cold water to stop the cooking. Meanwhile, drain and pat the tofu dry. Cut it into matchstick shapes (don't go too thin or I found they fall apart while pan frying). Season with salt and drizzle with oil. Cook over medium high heat, tossing, so that the tofu browns on all sides.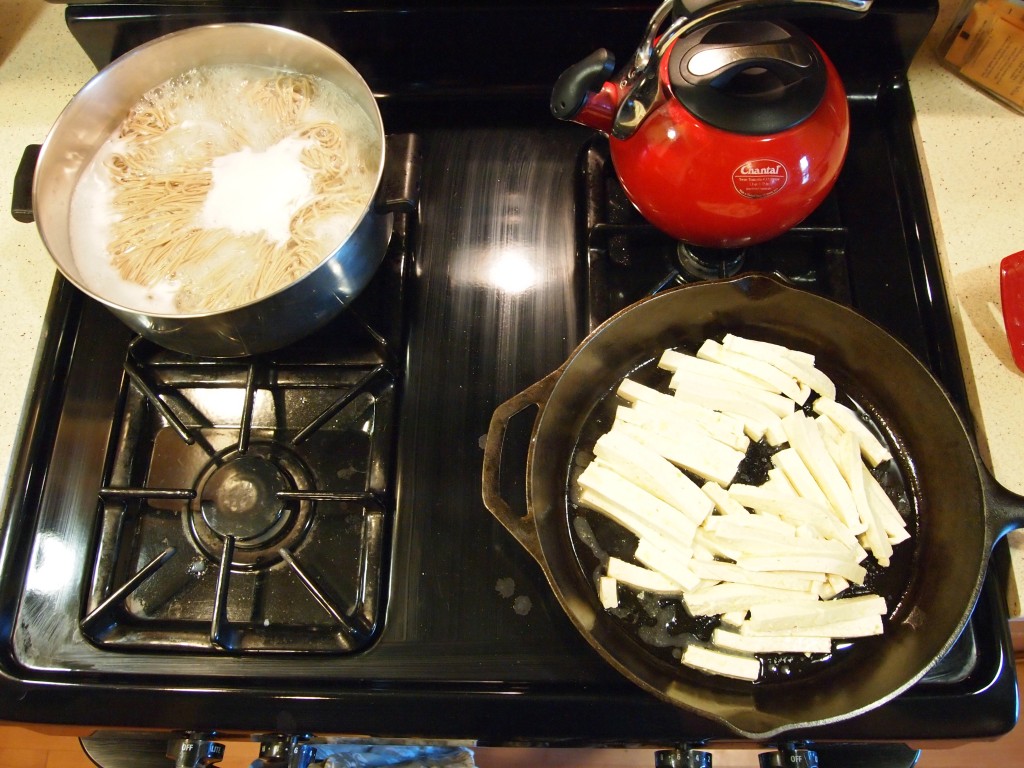 Reserve a heaping tablespoon of the sesame paste and thin the rest with the reserved noodle water. In a large bowl, toss together the noodles, half the green onions, and thinned sesame paste. Add tofu and toss gently. Serve topped with the remaining green onions and the dollop of reserved sesame paste.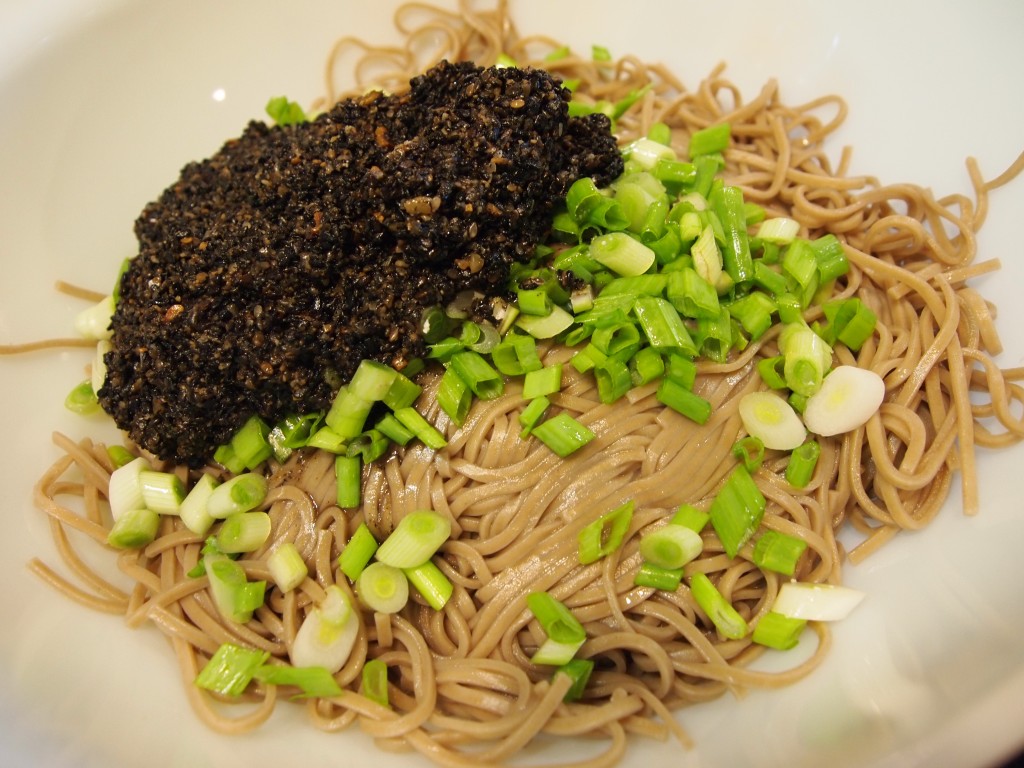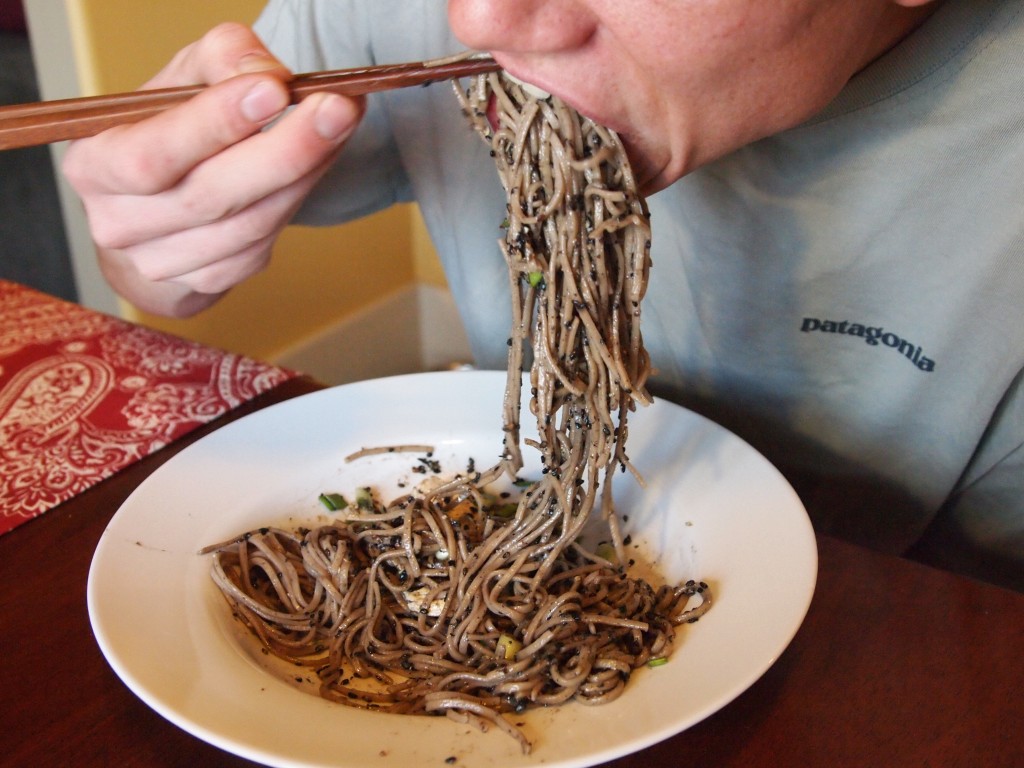 Thanks, Ms. Swanson, for a wonderful recipe and beautiful book. Hahaha. I love this picture. Happy hands, shoveling into a happy mouth = happy belly.