Sunday, February 17, 2013
crunchy granola bars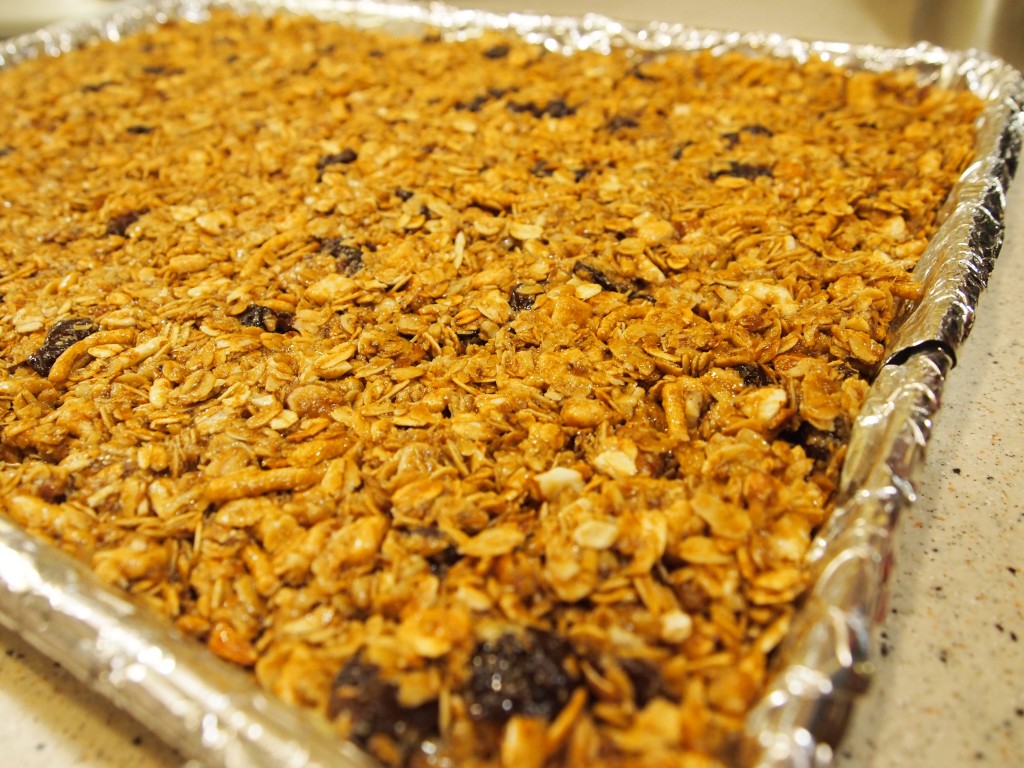 Yesterday was the big day. My first participation in the King and Queen of the Ridge, the annual ski/hike-a-thon that takes place at Bridger Bowl to benefit the avalanche center. It was a loooong day of type two fun (as Dawn says): the kind of fun that isn't so fun while you are doing it but it's fun to talk about over beers later. I was a part of Team Ale Works, and I must say, we killed it! The team did a total of 297 hikes, with the most badass guy doing 25, and badass girl doing 18. I beat my goal by doing 11 during the five hour competition. GO TEAM, GO! It was a beautiful 40+ degree, bluebird day. What a great day to play outside from sunup to sundown. I made these little beauties to share with my teammates and provide some much needed fuel throughout the day.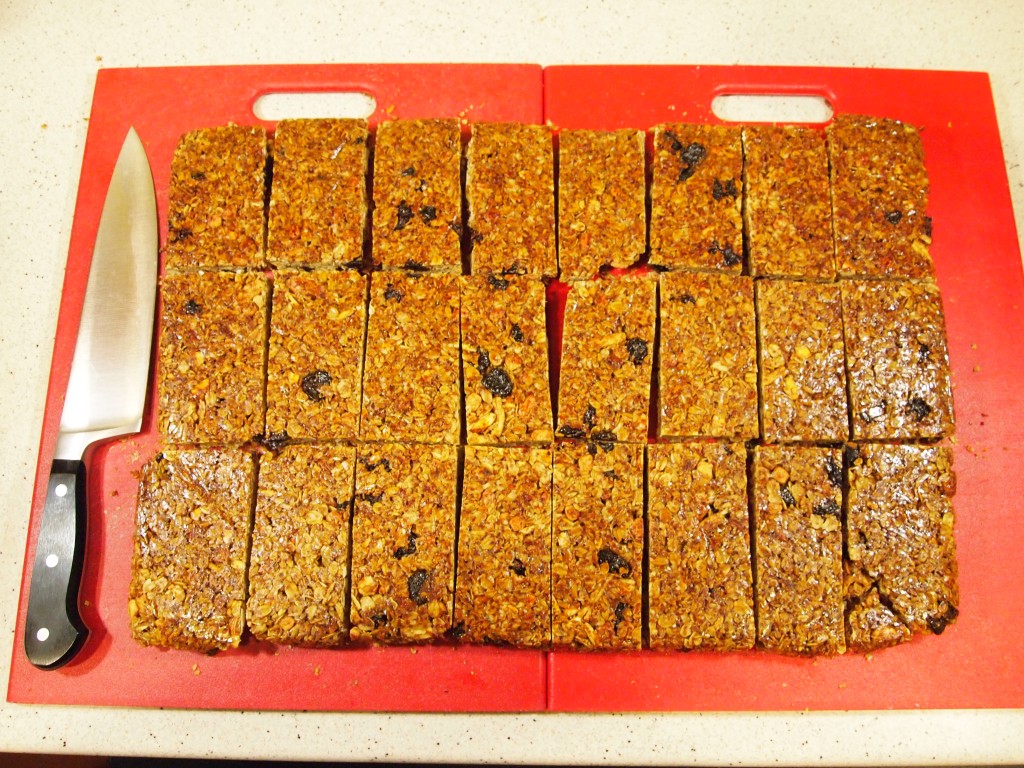 Homemade granola bars! They were such a treat and fun/easy to make. Much more fun than store bought.
GRANOLA BARS (slightly adapted from The Pioneer Woman Cooks)
6 cups rolled oats
4 Tbsp. butter, melted
1/4 cup coconut oil, melted
1 tsp. salt
1 cup brown sugar, packed
1/2 cup honey
1/4 cup apple juice
1/4 cup molasses
3 tsp. vanilla extract
1 1/2 cups Kashi Go Lean cereal
1 cup wheat germ
1/2 cup finely chopped pecans
1/4 cup coarsely chopped almonds
5 oz. dried cherries
8+ oz. semi-sweet chocolate, melted
Pre-heat oven to 350 degrees. In a bowl, toss oats, melted butter and coconut oil (why do they call this oil? it's more like coconut butter), and salt. Spread evenly onto two 12 x 17 inch baking sheets. Toast in oven for 15-20 minutes, tossing twice to brown evenly. Remove and set aside. Reduce oven to 325 degrees. In a medium saucepan, combine brown sugar, honey, apple juice, and molasses then stir in vanilla. Toss together toasted oats, cereal, wheat germ, pecans, almonds, and cherries. Slowly add brown sugar mixture (aka sticky mess) to dry ingredients, stirring constantly. Line one of your baking sheets with aluminum foil and spray with cooking spray. Turn out granola onto baking sheet. Bake for 20-25 minutes, or until golden brown. Let cool. Turn out onto a cutting board. Remove foil and cut with a sharp knife.
Optional: This is optional, but, I mean, come on. Who is going to opt out of the chocolate? Melt 8+ oz. of chocolate over a double boiler and dip cooled granola bars in chocolate. (I used 8 oz. and ran out before I was done. Maybe I was over chocolating, or maybe you just need a little more.) Let cool completely before storing in an airtight container.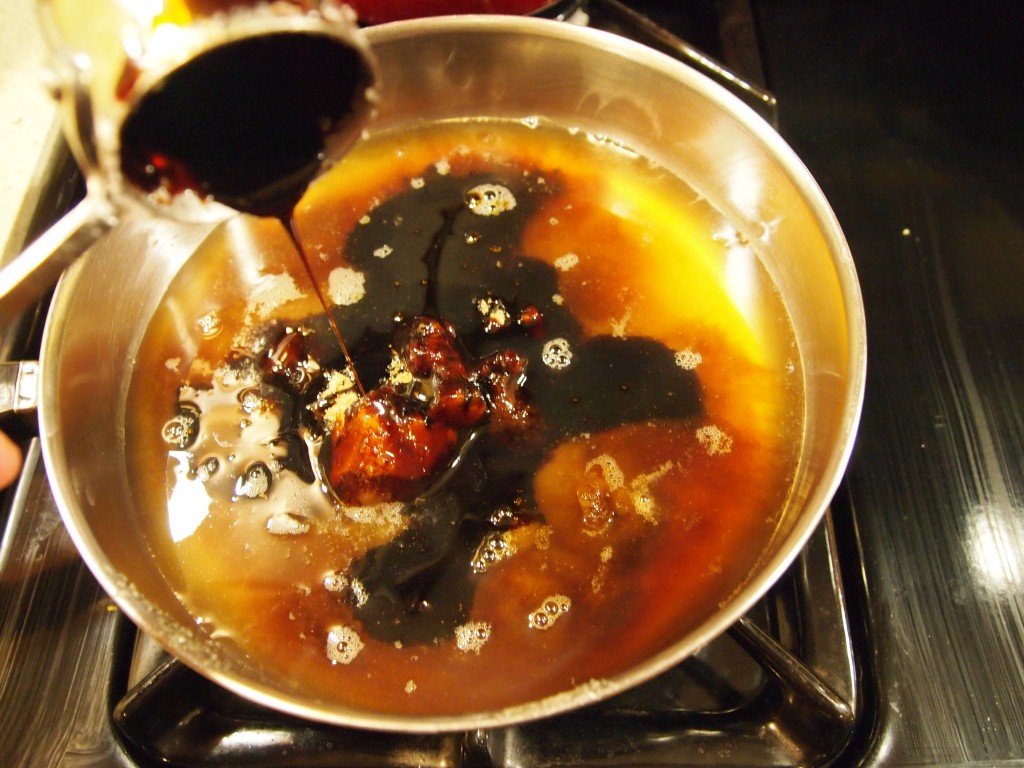 The sticky mess. Doesn't it look delicious?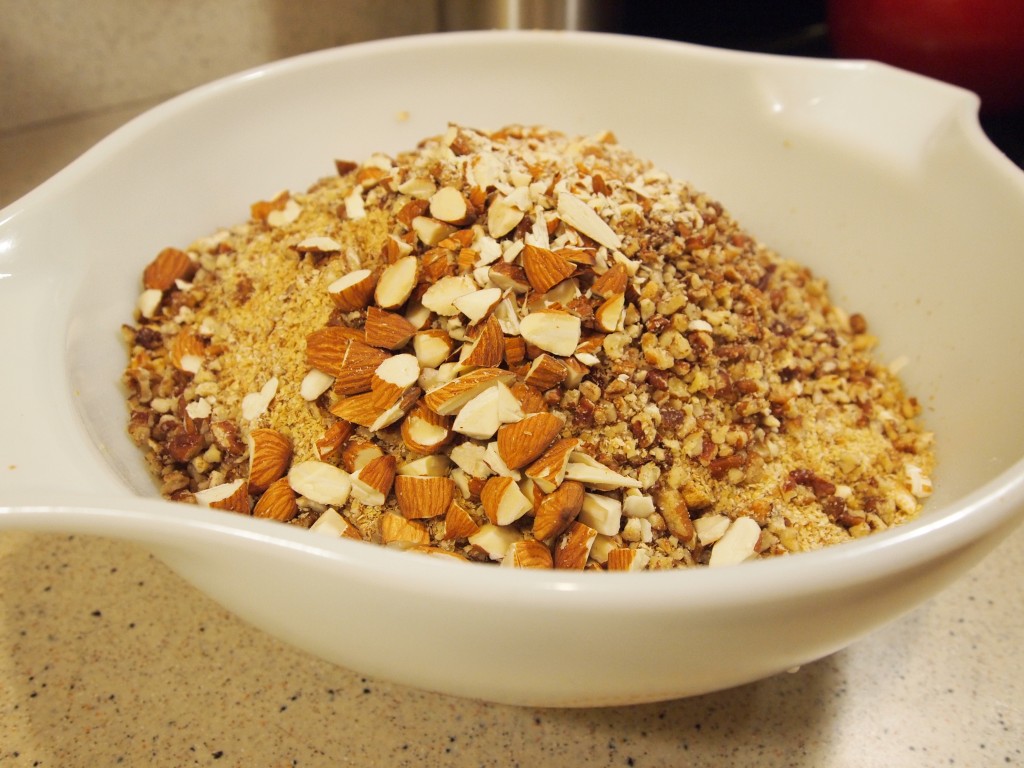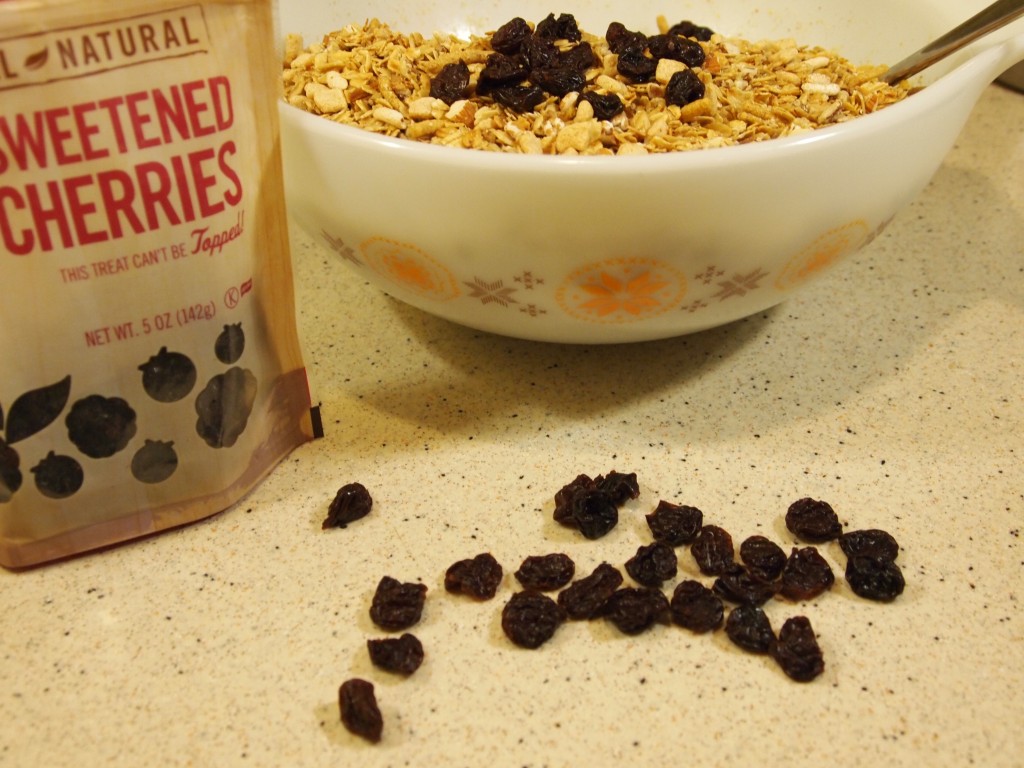 You could substitute any dried fruit for cherries. Apricots, cranberries, mango…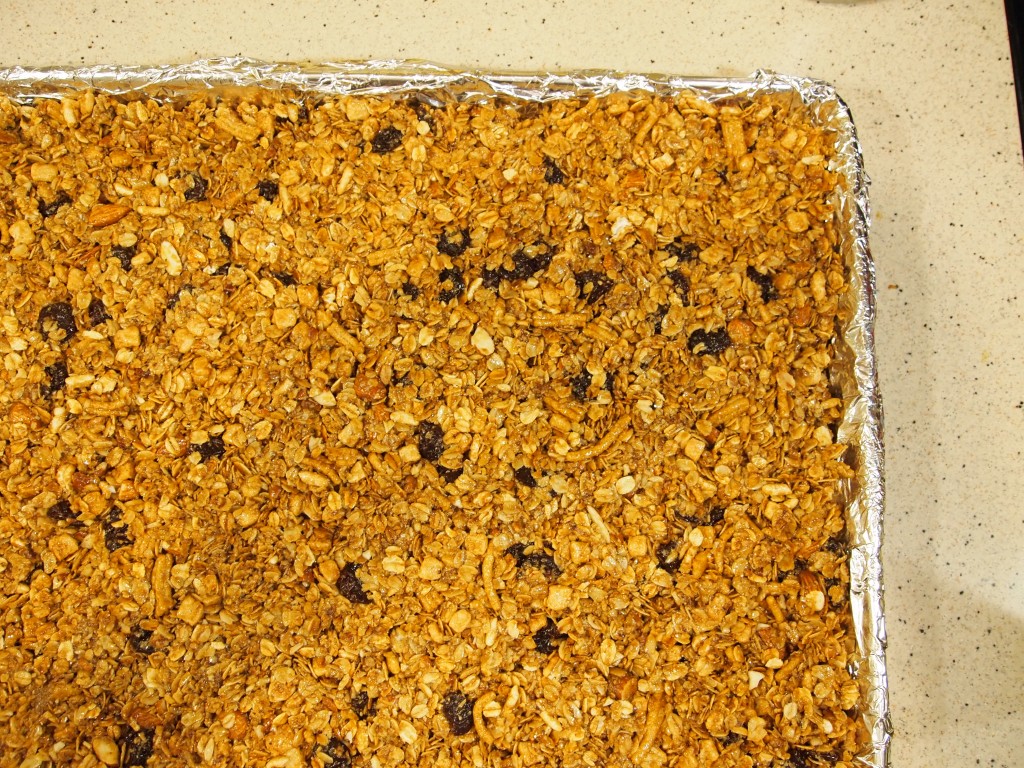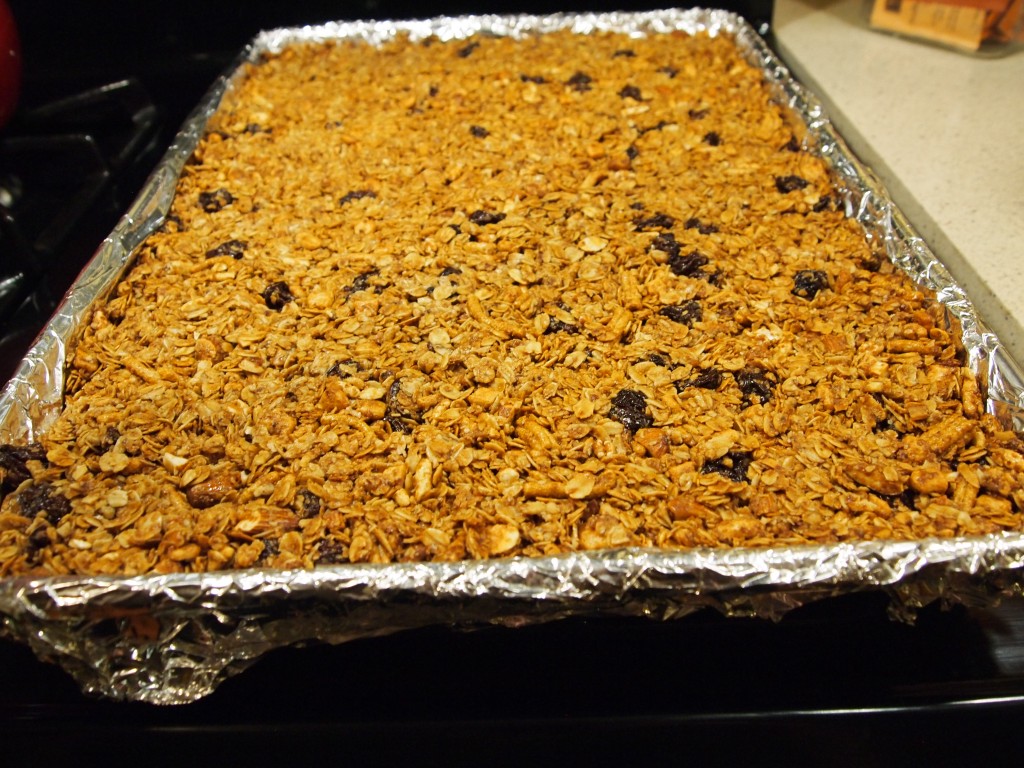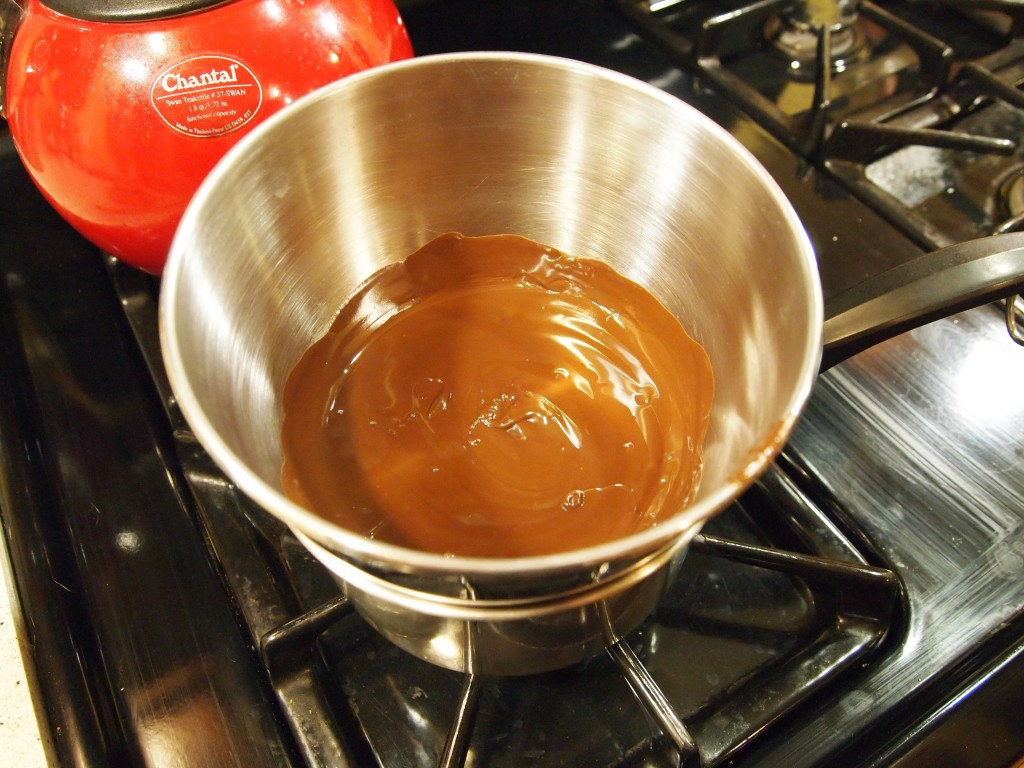 Homemade power food. Perfect for bringing out with you when you're playing outside and doing cool stuff. Look at how glisten-y and delicious all of that chocolaty granola looks. You know you want some.