Thursday, June 25, 2015
rhubarb ginger compote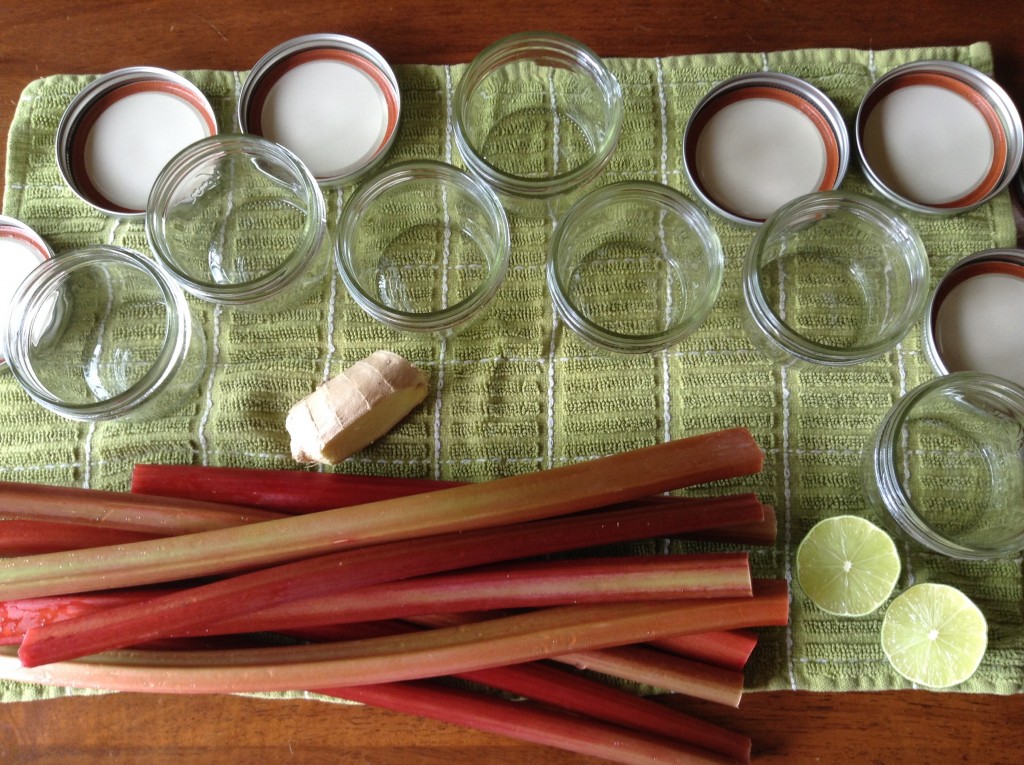 I had my first foray into the canning world last summer when I realized that there was no way I was going to be able to use all of the fresh produce from my garden. Andy and I made dilly green beans (which were delicious), sweet zucchini pickles (which were not so good), and a sweet and savory tomato jam (also delicious, albeit a bit too thin and runny). This allowed us to enjoy our garden goods throughout the winter and to share our pickled experiments with friends and family. We packed up our pickles to send home to family and …SPOILER ALERT… plan to do so again this year. With my plethora of rhubarb this spring, a rhubarb preserve seemed in order. And this, my friends, is the satisfying result. It's not too sweet, a little bit sour, and a little bit spicy. Make your own today or wait until the holidays to see if you've made my list. I am so on the ball for Christmas gifts this year.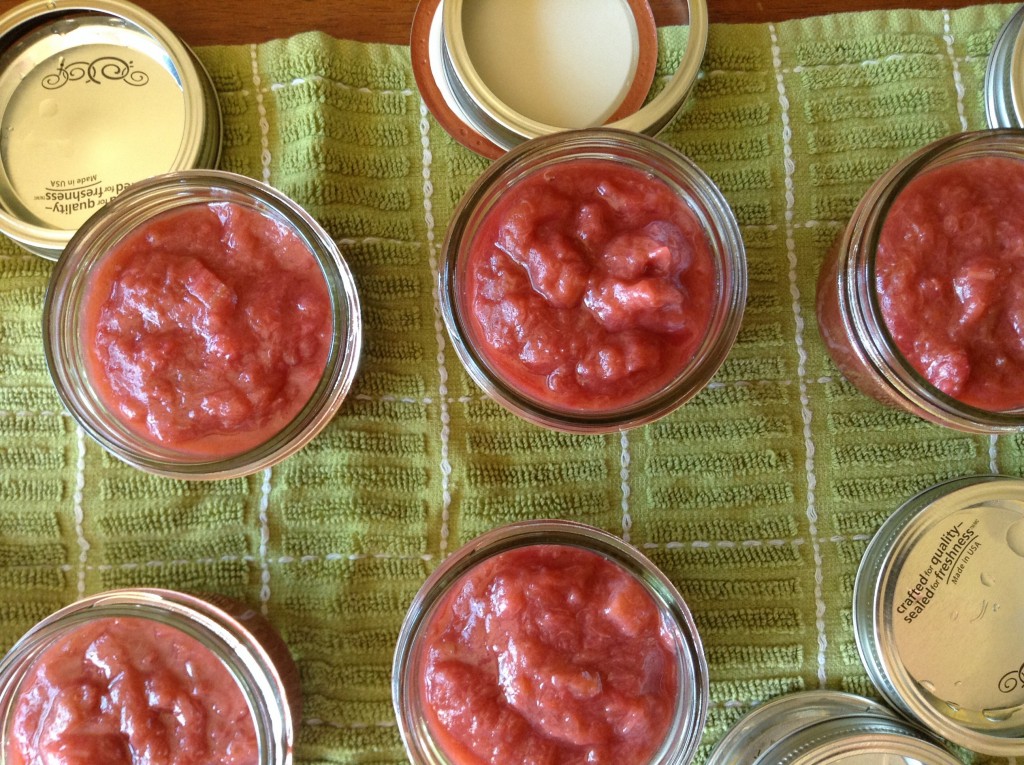 This jam was inspired by a cookie filling from Ms. Deb Perelman's cookbook. The original recipe included just rhubarb and sugar, but I add a little lime juice (because of my poor planning to have lemons on hand) and a touch of ginger to brighten everything up a notch. She uses a dry technique to cook the rhubarb with the sugar without adding any water. This creates a thick sauce and eliminates all excessive water, shortening the cook time because there is less water to boil off at the end. Genius!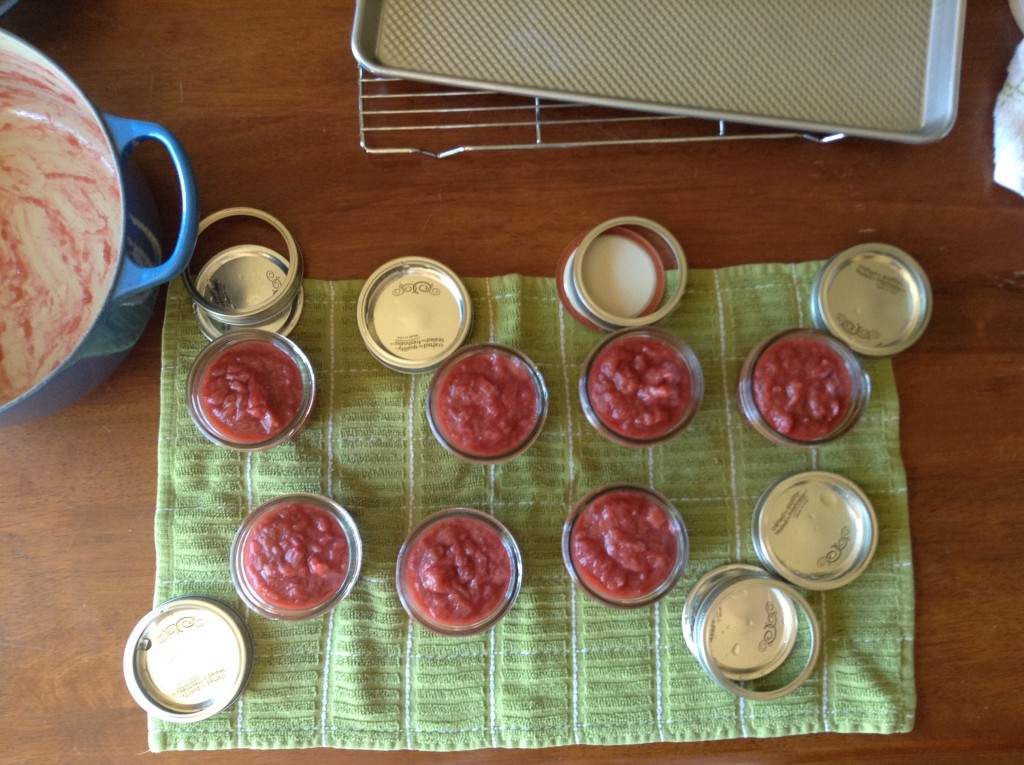 RHUBARB GINGER COMPOTE

9 heaping cups rhubarb, chopped
2 cups turbinado sugar
juice from one lime
1 Tbsp. freshly grated ginger
7 half pint mason jars, sterilized
Pour rhubarb and sugar into a large, heavy bottomed pot and place, covered, over medium high heat for 20 minutes. Remove cover, stir, and reduce heat to medium/medium low, about another 20 minutes or until rhubarb has broken down and the sauce thickens. When you trail a spoon across the bottom of the pot, a visible line should remain in the sauce. Stir in lime and ginger and cook for an additional two minutes to incorporate flavors. Remove from heat and transfer sauce, evenly, into the prepared jars, leaving at least an inch of head space in each. Wipe mouths with a damp towel to ensure a proper seal and place lids and rings on, twisting just enough to close them. Do not over tighten rings. Place jars into a large pot of boiling water and process for at least 10 minutes (add one minute extra for each 1,000 feet of elevation you are at—mine boiled for 15 minutes at 4,800 ft). Remove jars from the water and let cool on a rack. Hear your jars popping? That is how you know they have sealed properly. Enjoy your compote over buttered toast, as a filling for thumbprint cookies, spooned over ice cream or cheesecake—wherever you need a little rhubarb in your life!
As always, thanks for visiting, friends. Please leave me any comments or questions below. I love to hear your feedback!