Monday, March 2, 2015
thai style noodles with peanut sauce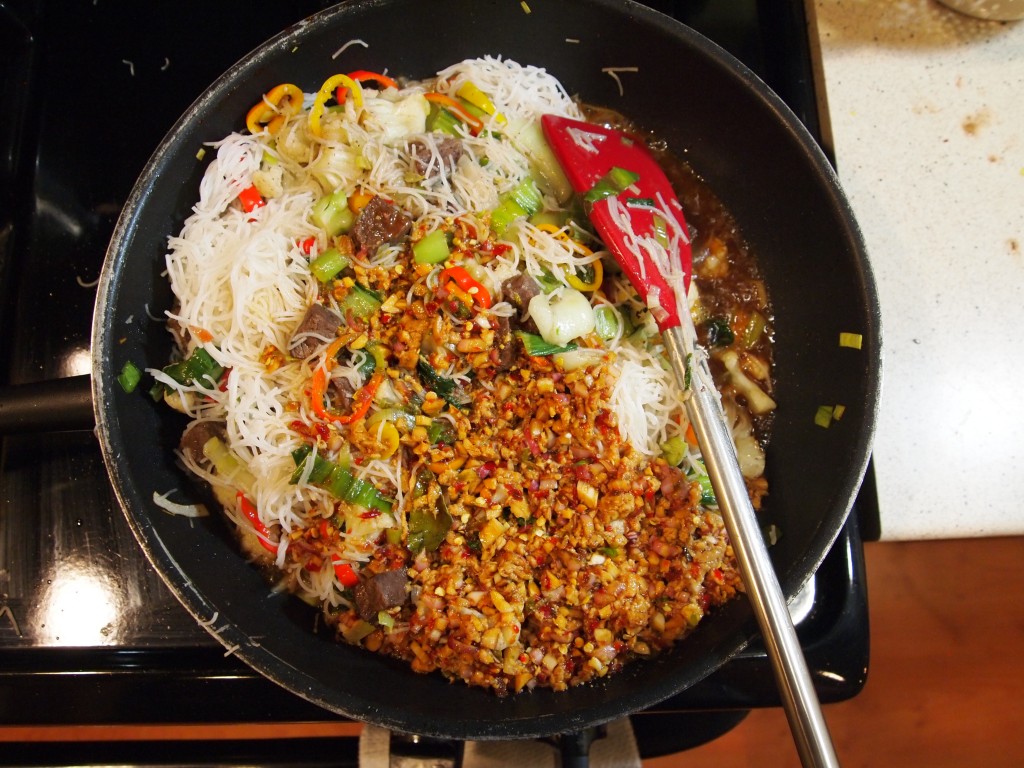 This deliciousness had the humble beginnings of being leftovers. It all started as spring rolls and dipping sauce. I thought I'd use up the noodles and some veggies in the fridge by "beefing" up the leftover sauce with a few extra ingredients, including some peanut butter. BEST. IDEA. EVER. These noodles are rich, and salty, and a little sweet, and acidic, and veggie-rific. Andy requested I write down the recipe the first time I made this for future reproduction. Request for replication by someone who isn't afraid to tell you the truth is the highest compliment your food can receive. I'll share it here in hopes you all enjoy this as much as we have. This version contains meat (elk in this case, but it could be done with beef or even chicken) but I think I like it best just vegetarian. I used mini bell peppers here because the varied colors you get from multiple small peppers instead of one large pepper really made the dish look pretty Andy picked out mini peppers.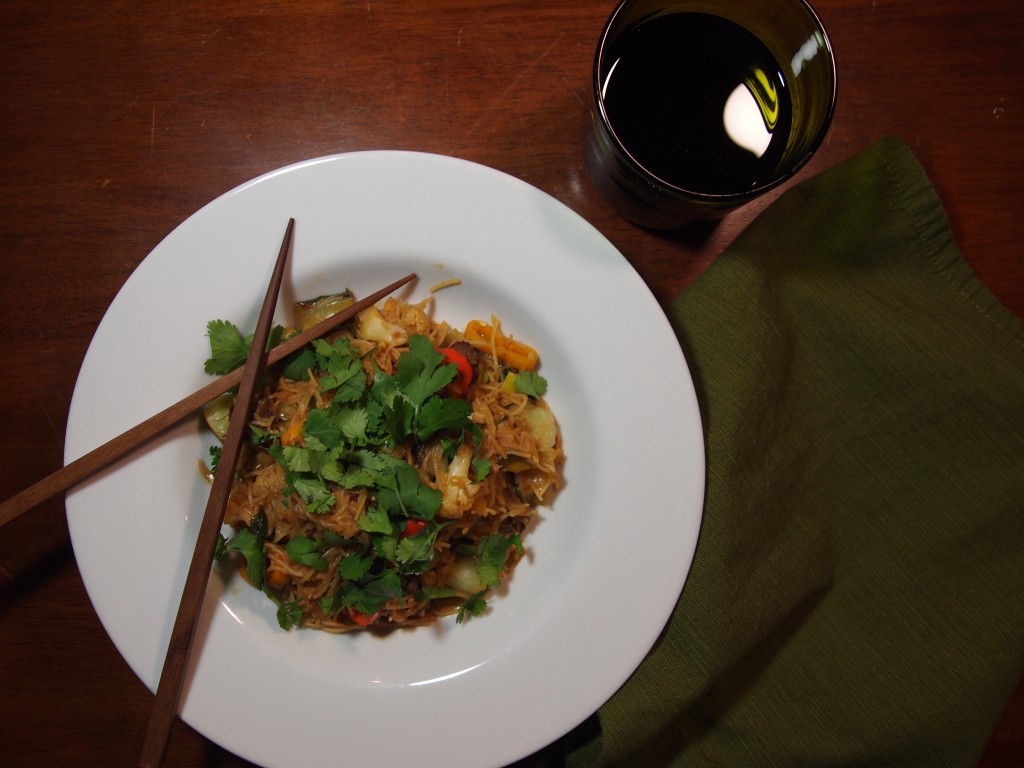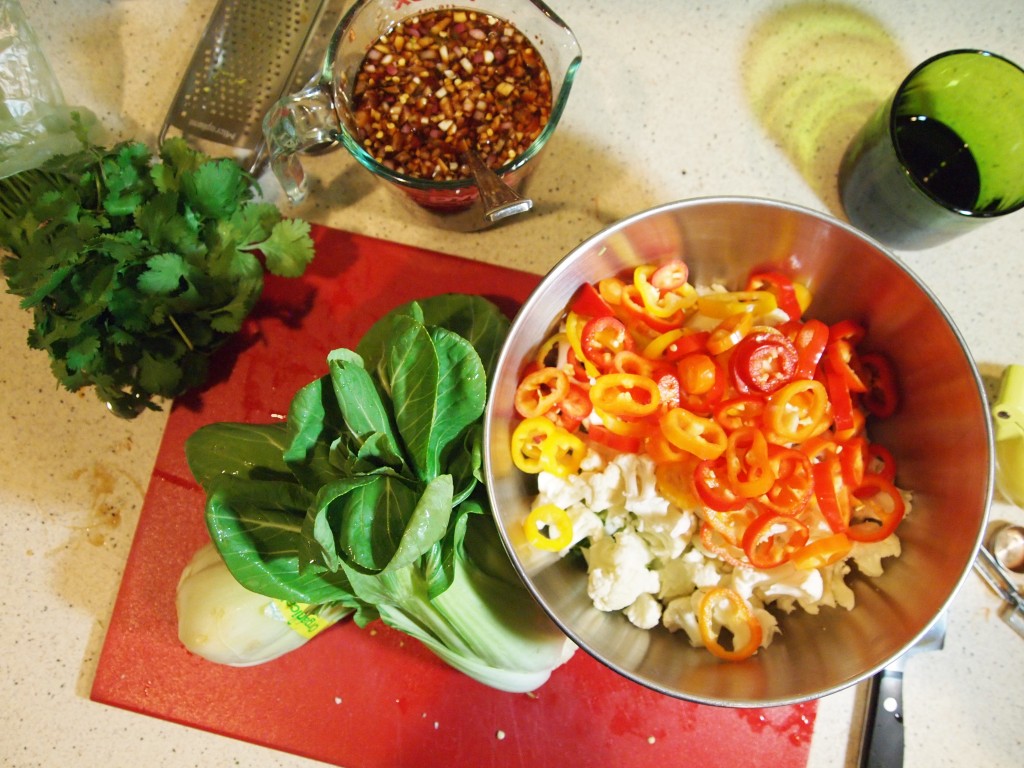 Sorry for the poor lighting in the photos. It's hard to get pictures for dinner done before dusk in the winter! Luckily we only have two more weeks until daylight savings time ends.
THAI STYLE NOODLES WITH PEANUT SAUCE
1 cup low sodium soy sauce
juice from 1 lime
5 tsp. chili paste
1 1/2 Tbsp. turbinado sugar
one 2 inch piece fresh ginger, finely chopped
2 shallots, finely chopped
2 cloves garlic, finely chopped
seeds from 2 hatch chiles
5 Tbsp. peanut butter
1 lb. elk or beef, cut into 1 inch pieces (optional)
1 leek, sliced
2 cups cauliflower florets and stems, broken into small pieces
2 cups bell peppers (about 2 whole peppers), chopped
2 heads baby bok choy, in 1/2 to 1 inch slices—larger on the leaves, thinner on the stalks
1 8-9 oz. package rice noodles, cooked according to package
2 Tbsp. coconut oil
fresh cilantro, chopped, to garnish
salt and pepper
Mix soy sauce, lime juice, chili paste, sugar, ginger, shallots, garlic, chili seeds, and peanut butter together in a small bowl. Heat 1 Tbsp. coconut oil over high heat in large wok. Add meat, season well with salt and pepper, and cook, stirring frequently until browned. Remove meat from wok onto a plate lined with paper towel to drain. Wipe wok clean with paper towel. Add additional 1 Tbsp. oil to pan. Add chopped veggies and meat back to wok, cooking for 9 minutes, stirring frequently. Add rice noodles and soy sauce, lime juice mixture, cooking for an additional 5 minutes or until everything is heated through. Serve topped with fresh cilantro. Serves 6.